Better late than never?
Christmas day is over and the girls are snuggled in with their new Cuddleuppets.
Each year I take photos of our house all decorated for Christmas and never get around to posting them. After last Christmas, I thought it would be tough to get into the swing of things this season. That couldn't be farther from the case. If anything, decorating was even more fun this year.
Welcome to our home.
I finally made time this year to make a new front door wreath for our house. This color combination was one of my favorites when I started making the argyle wreaths last year. Guess it helps that it's Georgia colors.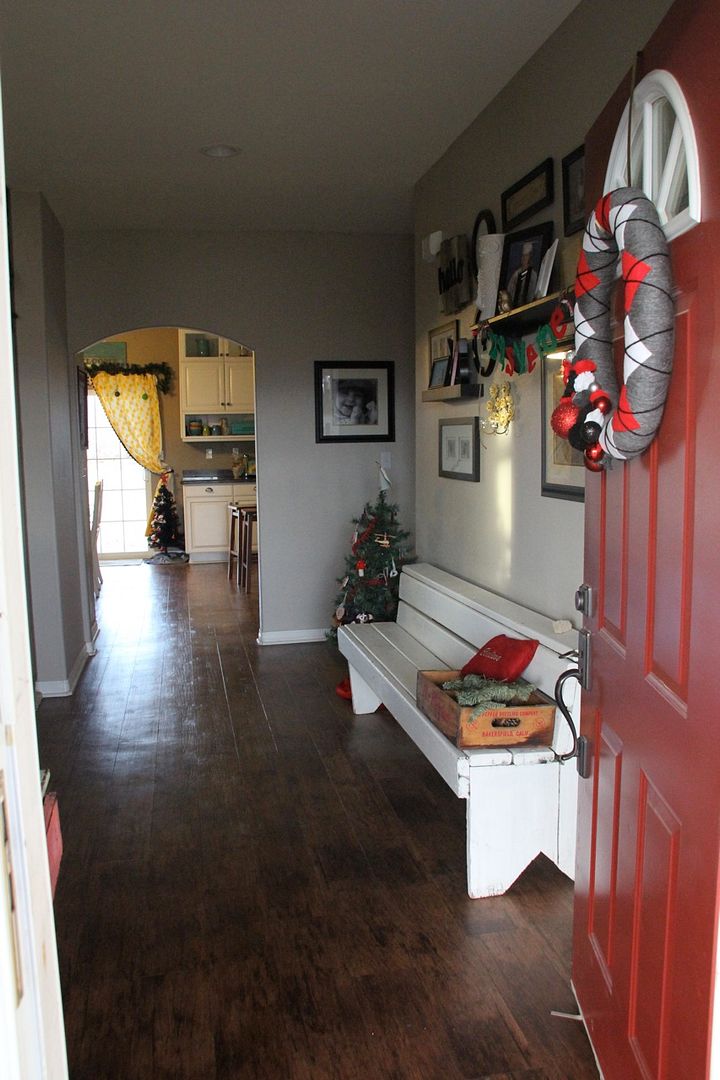 Our entryway is home to the newest tree. I needed another 4 ft tree for
The Queen Bee Market
and couldn't stand the thought of it sitting in a box in the attic for Christmas.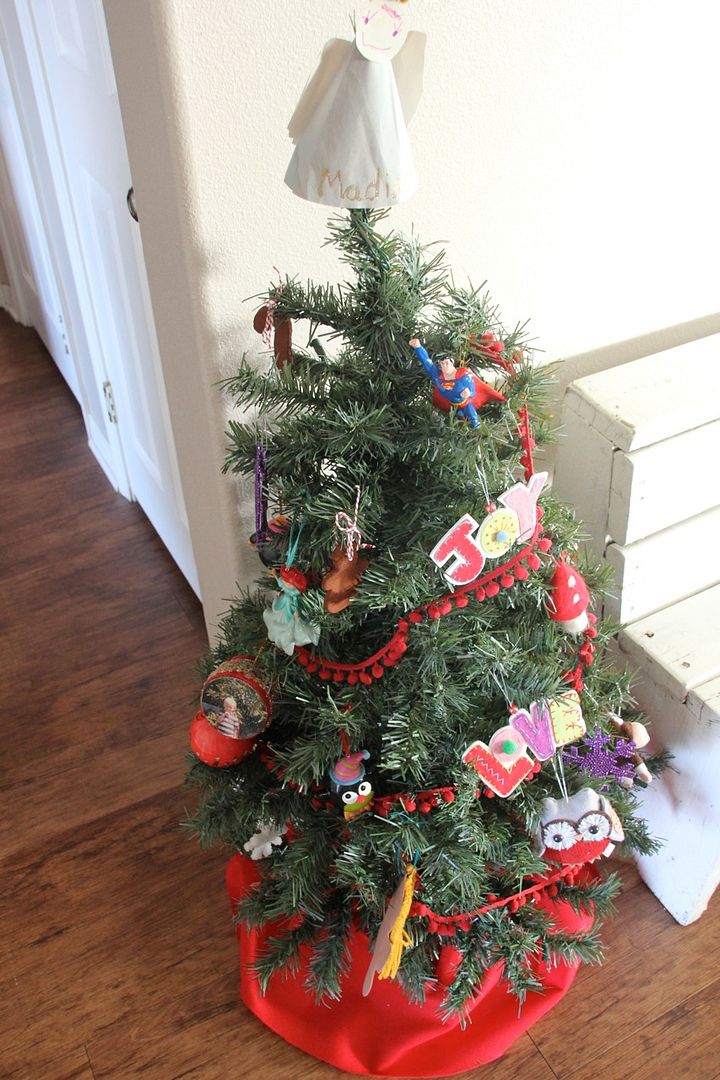 This simple tree became home to all our newest ornaments. Each year we are so blessed by our friends and family with new ornaments. The tree started out with Madison's angel from preschool 2 years ago at the top.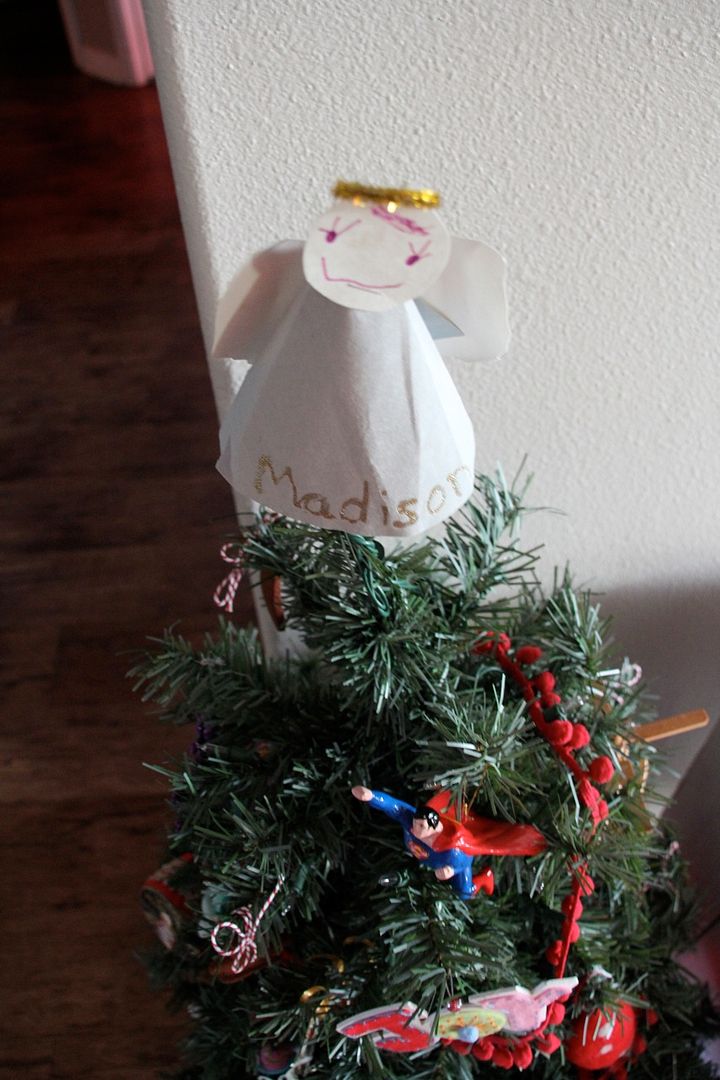 As ornaments were gifted we added them to the tree, including the treasures the girls made at school.
Some of my favorites are the felt ornaments and awesome owl from one of my best friends in Georgia, Kimberly!
I love our newest tree and it's little pom pom fringe garland. I think we've created a new tradition!
The little table (a Queen Bee find last Spring- Hello Smitten!) to the left of the door holds tiny tree #2.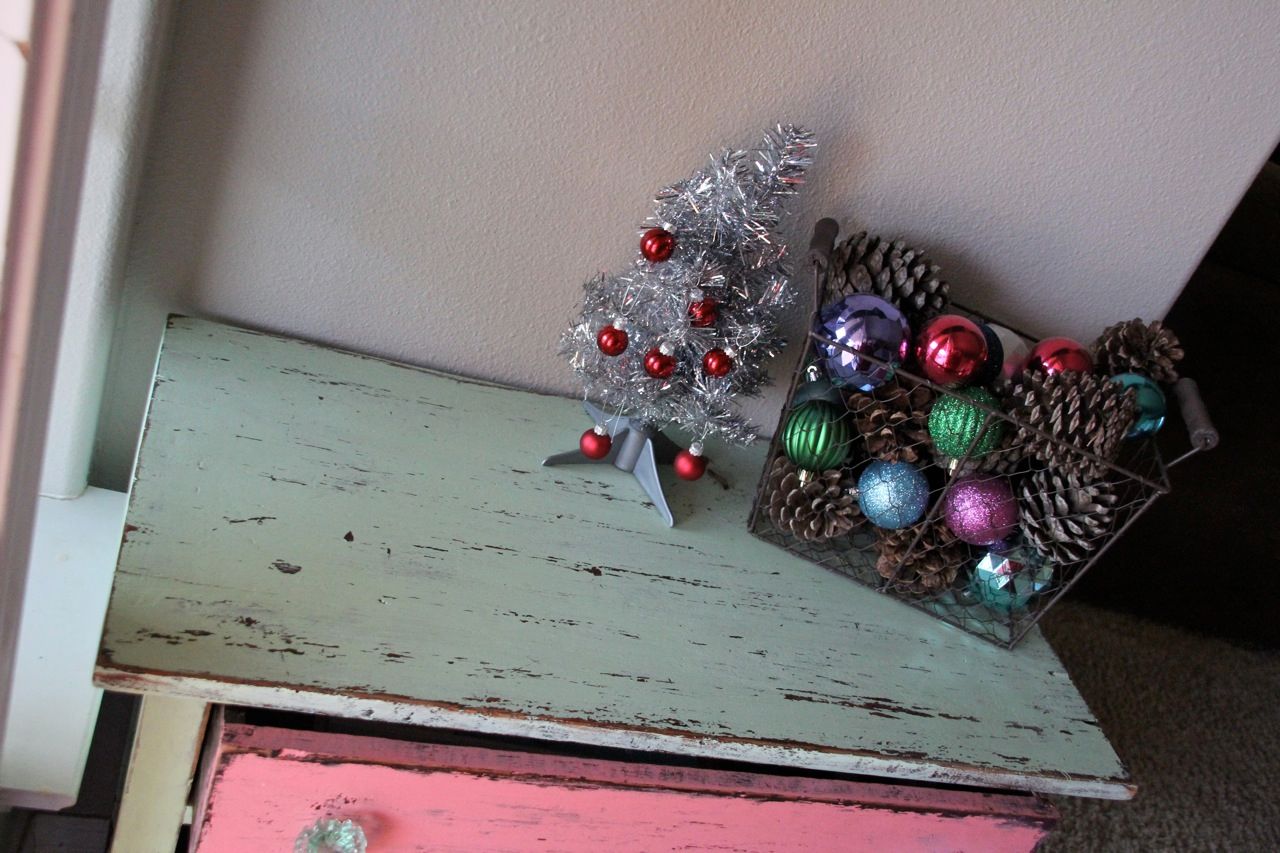 To the right hangs a mistletoe banner from my friend Priscilla with
Polkadots and Poppies
.
If you look left from the front door you enter the living room.
The 9 ft high entry into the living room was just calling for fun garland. Last year I added the hanging ornaments and yarn balls. The arch in the back of the room leads into our dining room. The wreath on the closed door is our office/guest room.
The living room is also home to my favorite Christmas decoration- the big tree. Each year we get a slightly larger one. This year our tree is 10 ft tall and 7 1/2 ft in diameter at the base.
The tree is sprinkled with ornaments Breadwinner and I have collected since we got married and a few of my favorites from growing up. This year my mother in law sent some of Breadwinner's favorite childhood ornaments to add to our tree. The tree is highlighted with bits of red and green ornaments and snowflakes to bring the eclectic look together. Two years ago I made the decision to go hook free so all our ornaments are tied with pretty grosgrain, organdy, and satin ribbon. It's a fun way to add more color to the tree and keep little feet safe from pokie hooks.
The big tree is centered on our front window next to the girls' rainbow play corner. We don't have a traditional mantle, so the stockings are hung on the shelf to the right of the tree.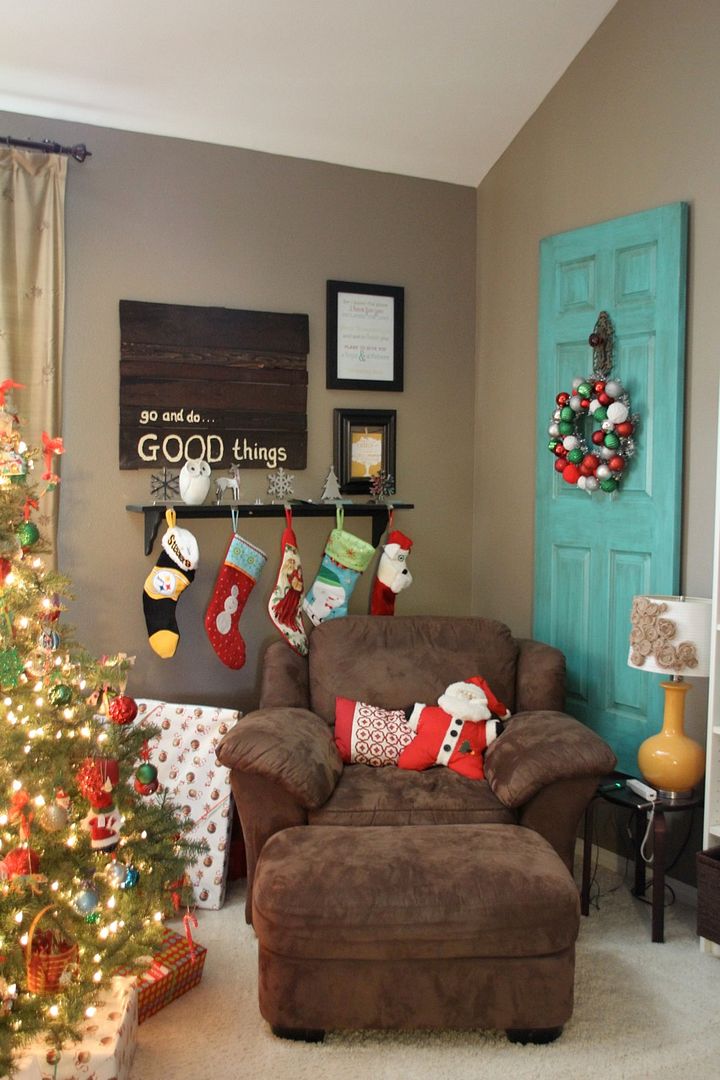 It's such a happy corner of the living room. All the interior doors in our house have wreaths at Christmas time. This is the first Christmas since I hung my turquoise door on the wall. Breadwinner is not a fan...as a joke I hung a wreath on this door too. I really kinda like it. What do you think?
Finishing the entertainment center is top on our Christmas time off priority list. In the meantime, the shelves house more of our Christmas treasures.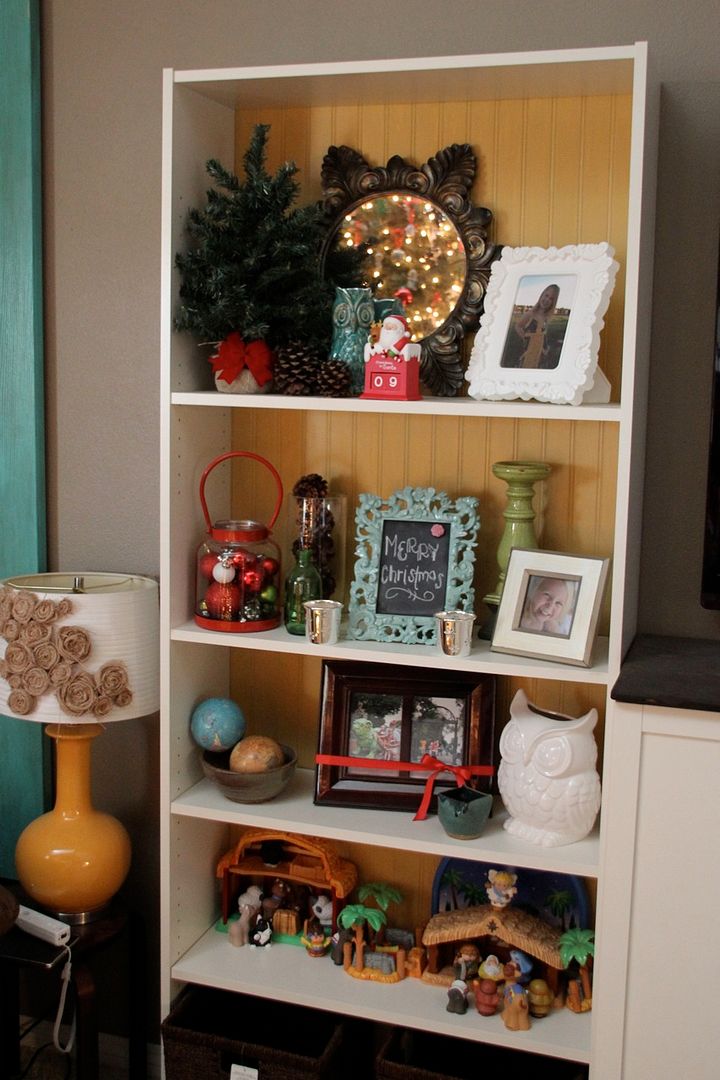 The girls use the next to the last shelf for their Little People Nativity set this year. Even though they are 4 and 6 yrs old now, it makes me happy they still enjoy some of their simple toys. (see tree #4?)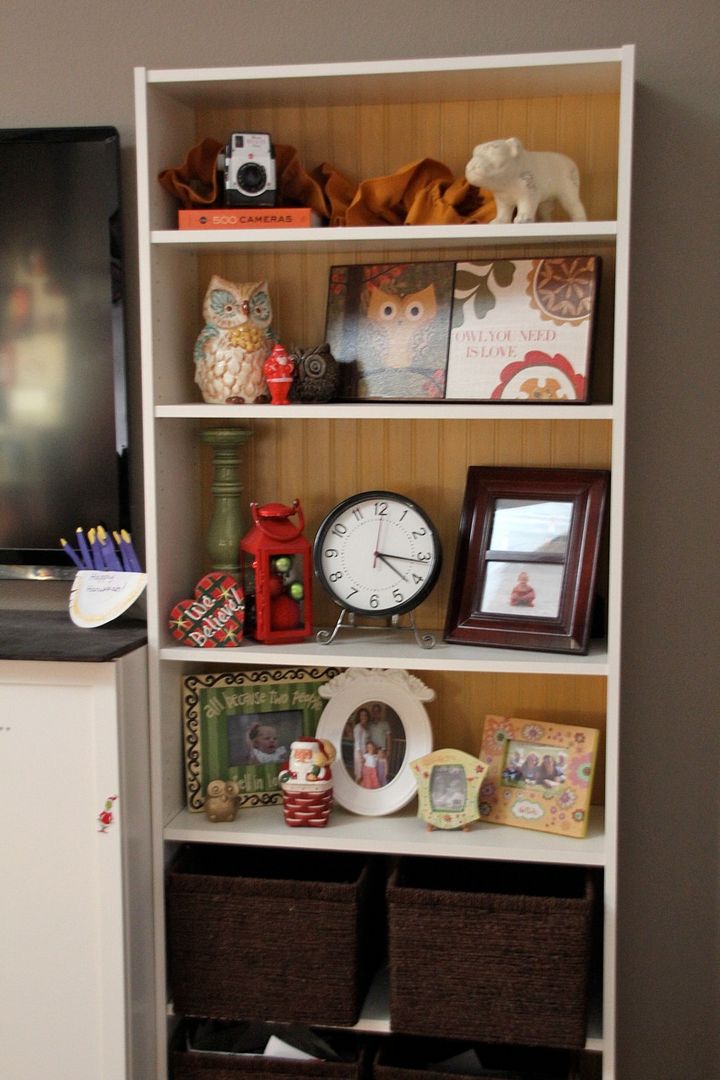 I'm still looking for the perfect clock for the living room. This little Ikea clock moved in from the laundry room last week.
Here the view from the stocking corner looking into the kitchen.
Every year we make
Borax snowflakes
. This year we made a sparkly lace snowflake garland, too! Would you like a tutorial?
Do you remember when I
refinished this bookshelf
?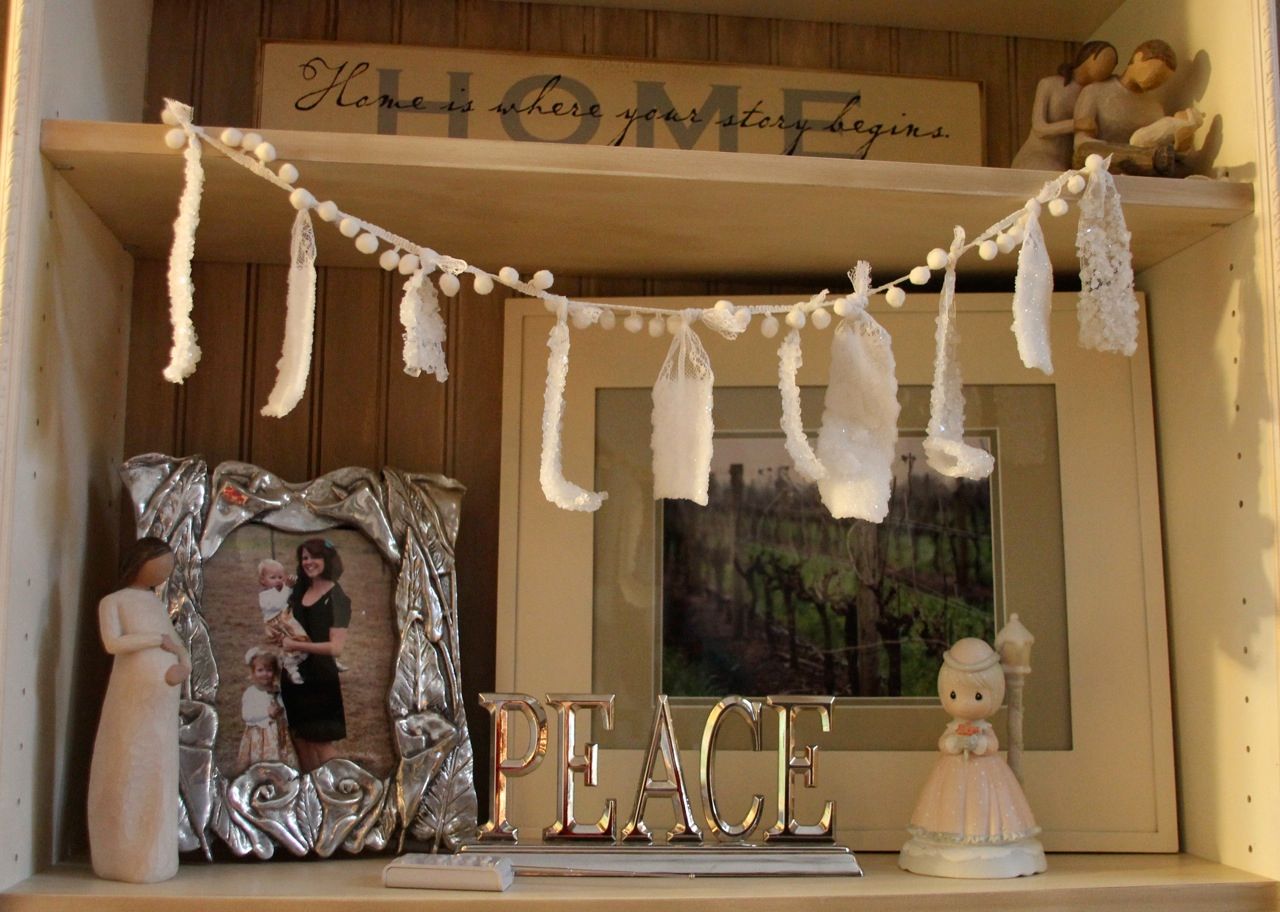 Sorry for the wonky color. The sun was setting fast. I love the way this lace garland came out. We're definitely leaving it up all winter. It's nice to have a little snowy sparkle in the house.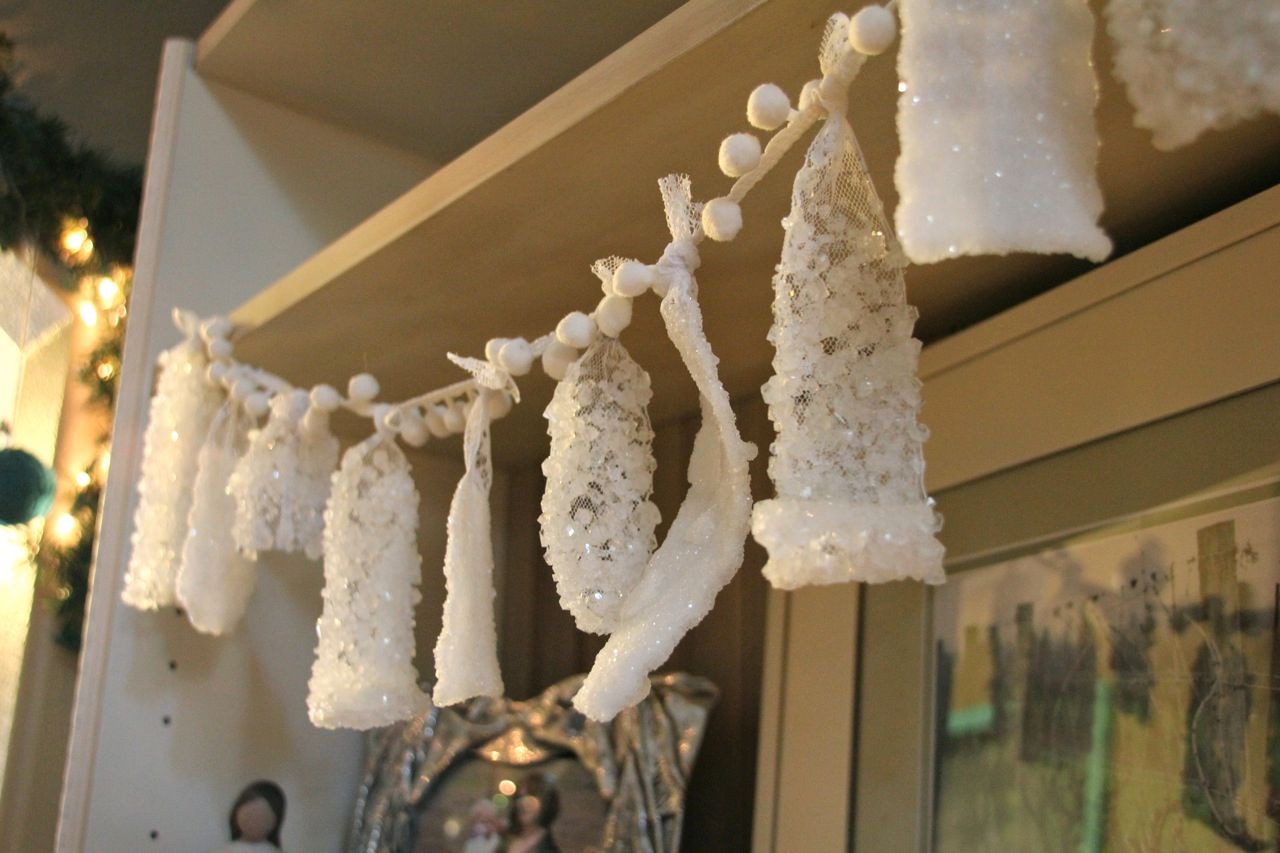 I collected Precious Moments as a child. Just after Matthew and I were married my mom gifted me her Precious Moments nativity set. I keep saying I am going to make a stable display for it. Maybe it will happen before next year.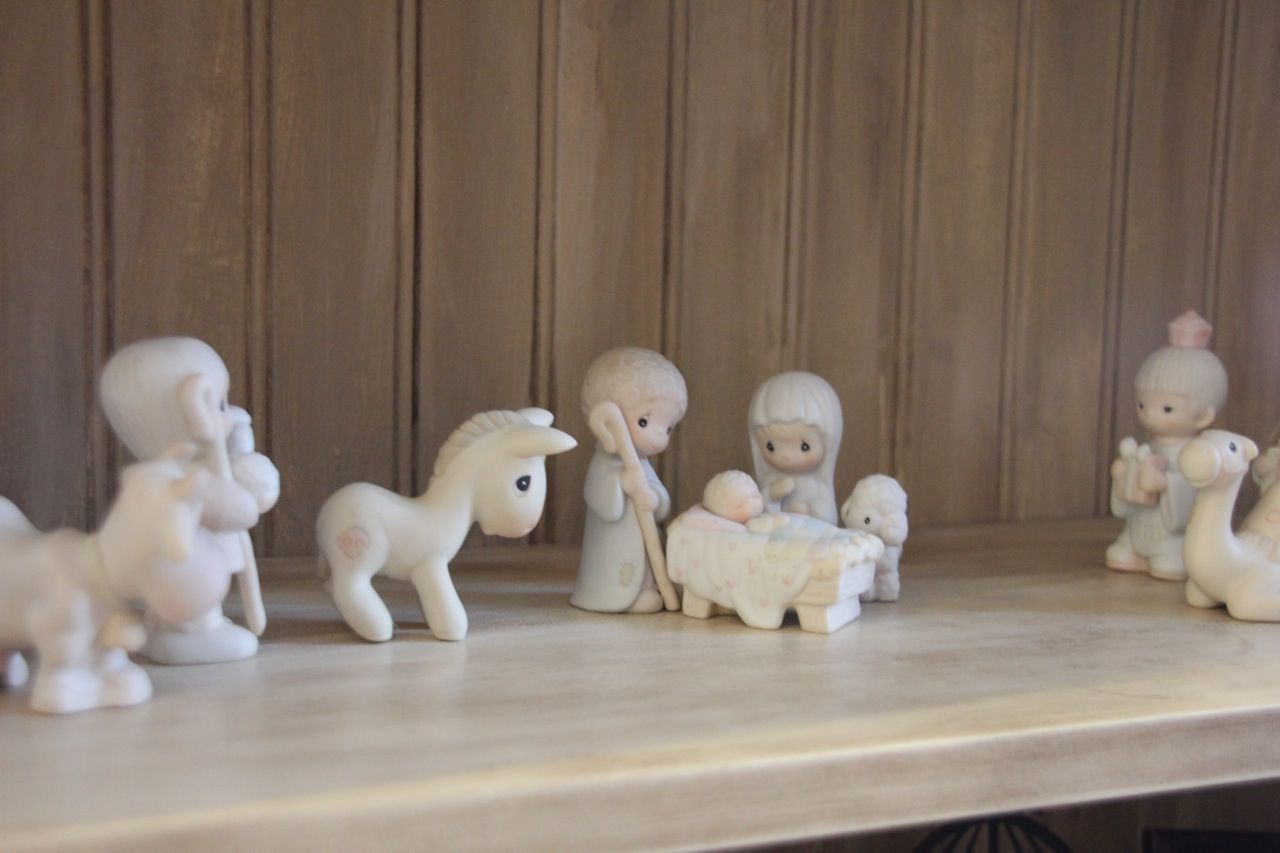 The dining room just has a few simple decorations.
Pine garland for the top of the hutch, more ornament garland over the back slider, an ornament and yarn ball addition to the fan, and a couple
cinnamon ornaments
for the hutch knobs. Oh- and our Elf on the Shelf(s) were caught making snow angels in some flour on the hutch this day. Silly elves.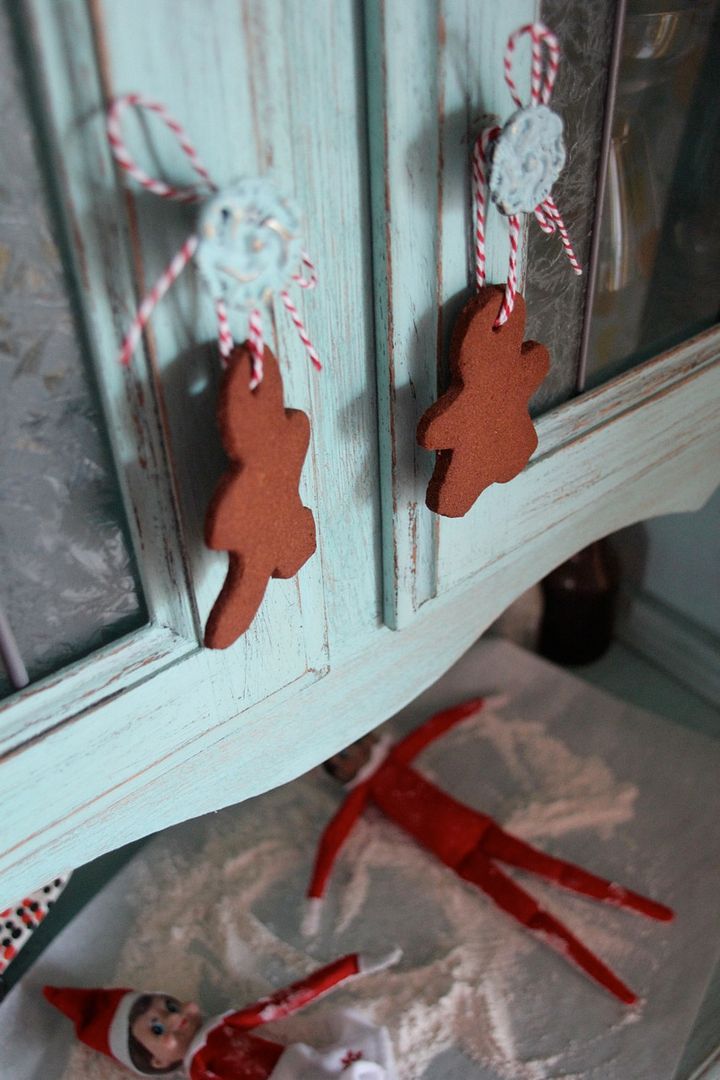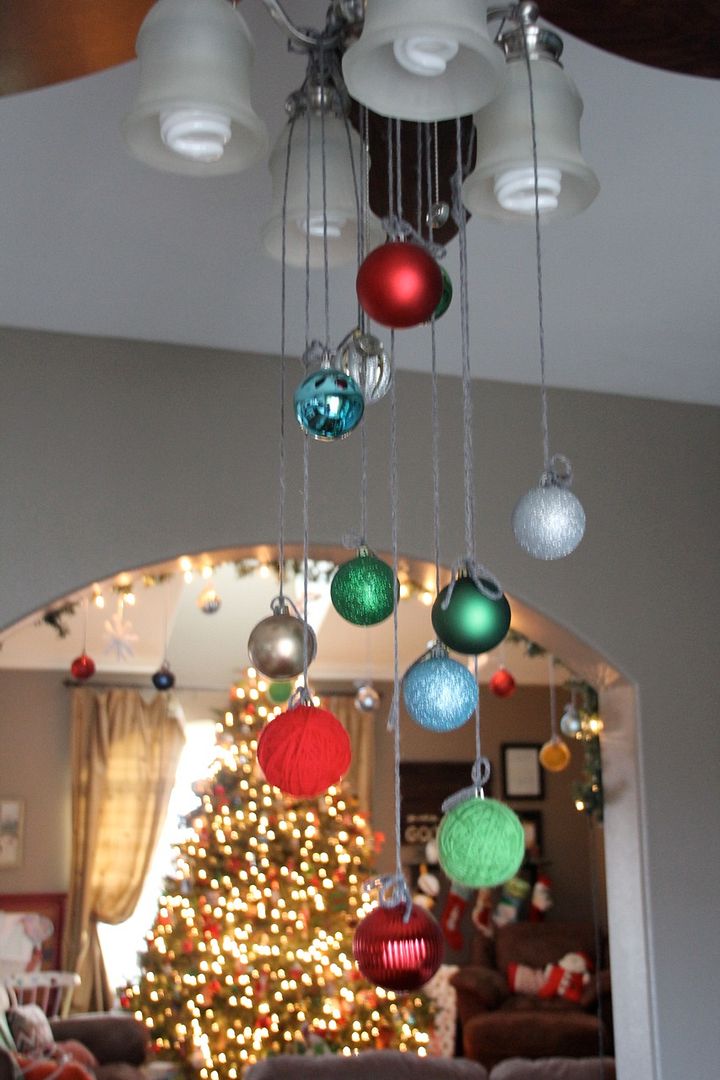 The dining room/kitchen also house another of our Christmas trees....maybe my favorite of the littles.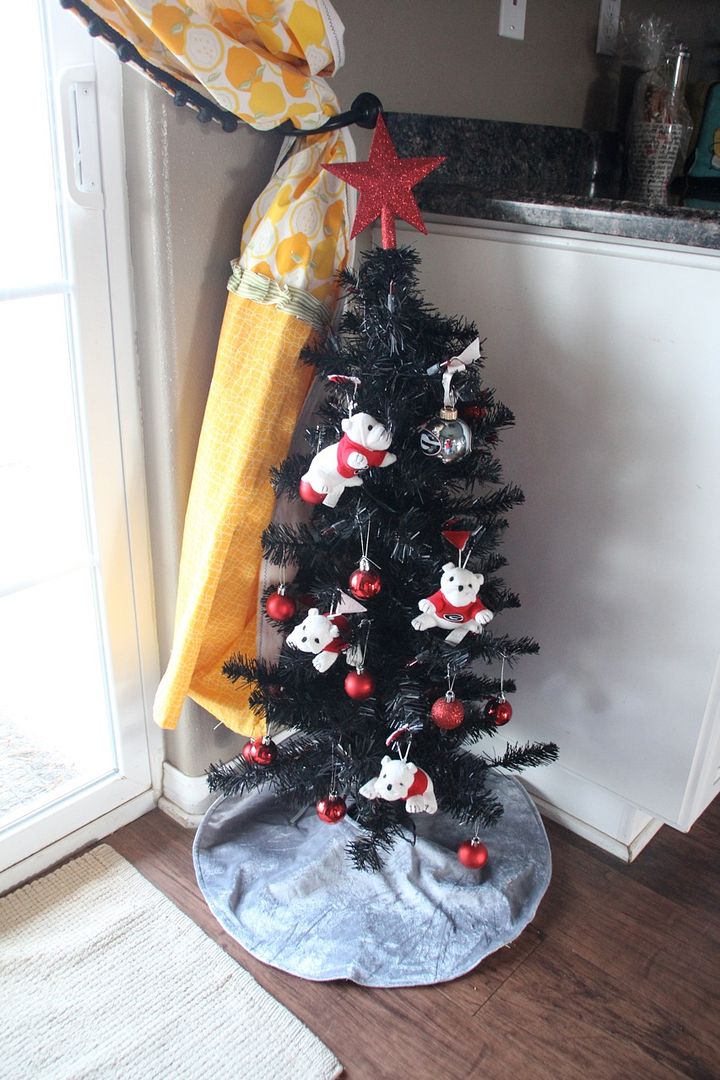 I may be the only person in the world who jumped for joy when they saw a black Christmas tree with red lights at Walmart 3 years ago. What could be more perfect for a University of Georgia Christmas tree?!
When the girls were babies they had a Georgia mobile over the crib. Since they haven't used it in quite some time, we tied off the hanging string on each of the bulldogs to make loops and hang them like ornaments. Notice the silver tree skirt? The UGA football players wear silver pants-known as 'silver britches'. Seemed only fitting our tree have silver britches, too!
I'm always looking for more Georgia ornaments to add to this special tree.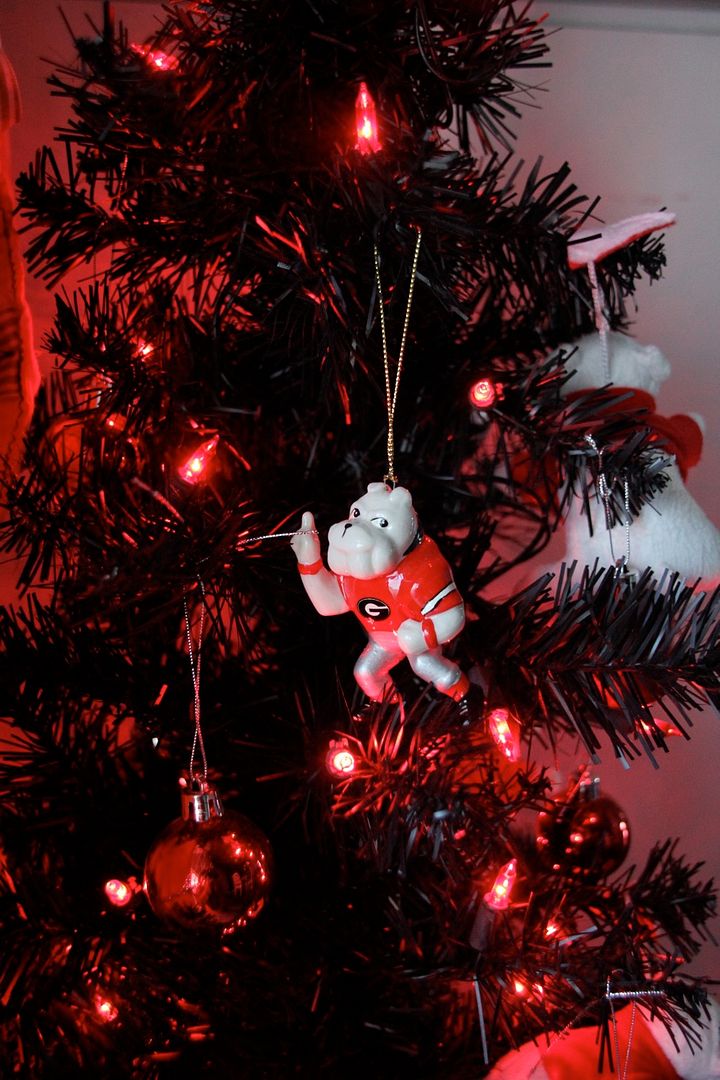 For now our red ball ornaments and few Georgia treasures are just enough.
The kitchen is pretty plain, with just a few sprinkles of Christmas. Last year I added red ball ornaments to the clear bowls in those top cabinets and red sparkly ribbon to some of the special crystal vases handed down from my great grandmother and fiestaware favorites. This year we kept it simple.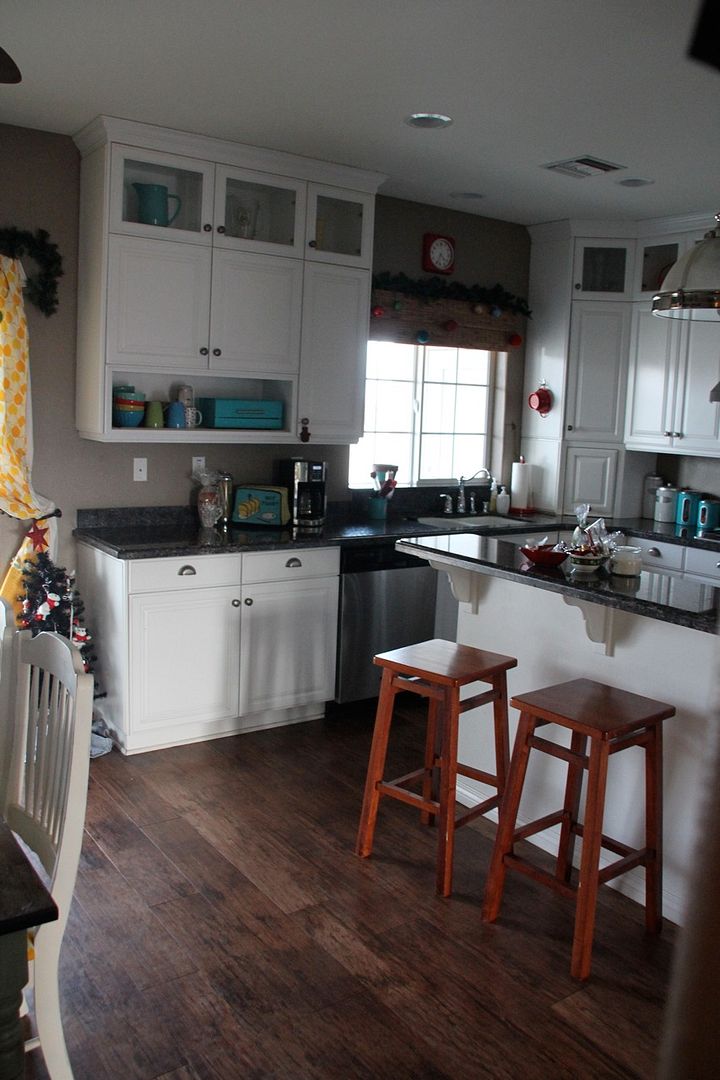 More pine garland and ornaments over the window and a few more cinnamon ornaments on cabinet knobs. Oh and candy and goodie filled Christmas dishes on the counter.
Kimberly gifted me these pretty towels over the years. I just LOVE bringing them out each Christmas!
Next to the oven, as you enter the hallway to our bedrooms hangs my apron collection. I used to pack the Christmas ones away, but I like having them all in one place. Some vintage-from my grandma, some handmade, some just fabulous.
Our card wreath hangs on the front closet door. If I ever get on the ball enough to send out Christmas cards with our new address (we moved 3 years ago!) the wreath will be overflowing again.
Down the hall into our room hangs another metallic
Pleated Poppy inspired
wreath and two more trees sit on my dresser.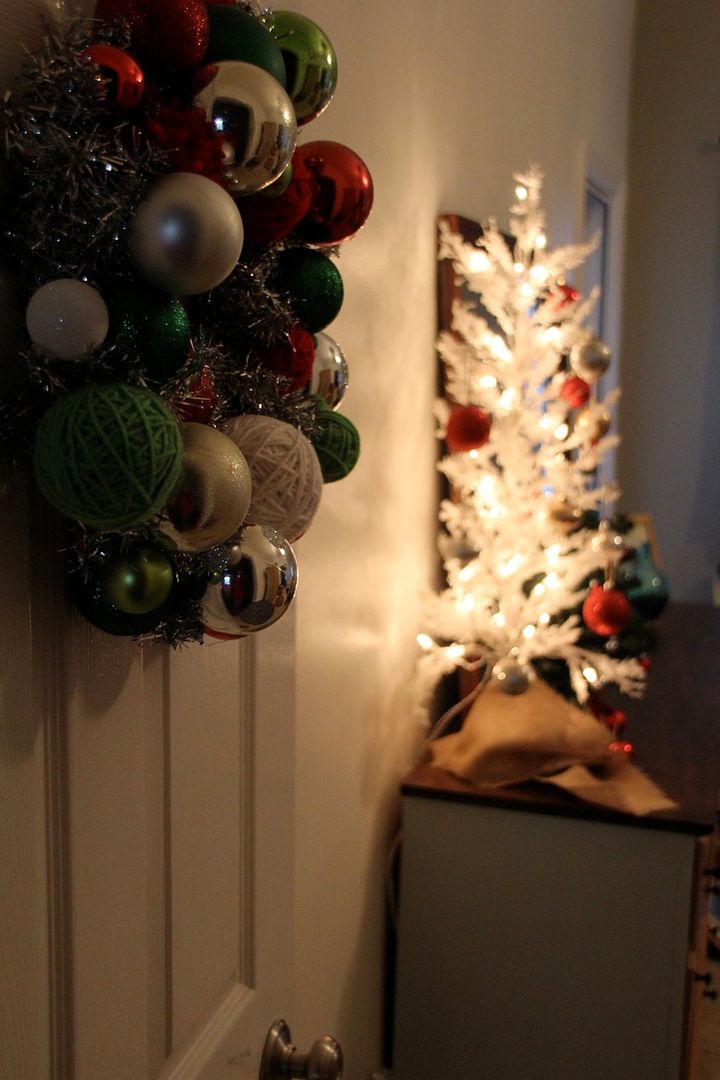 It's nice to have a little extra Christmas cheer in each room of the house.
I found the white sparkly tree 2 summers ago at Micheal's for $5. Apparently they found some old Christmas decorations in the back of the storage room. Score for me!
Across the hall with the pink glow is the girls' bedroom.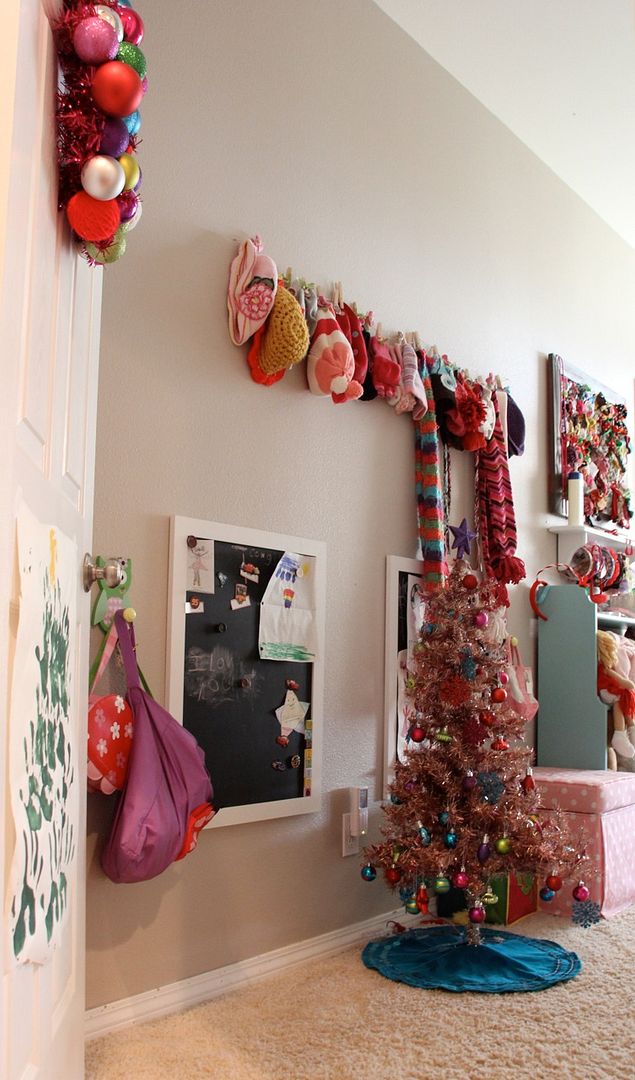 The pink metallic wreath on their door is the perfect compliment to their pink tree!
The tree was gifted by a friend who loves Christmas but decided having a little boy meant purging pink from her house. We have loved this sparkly tree for 5 years.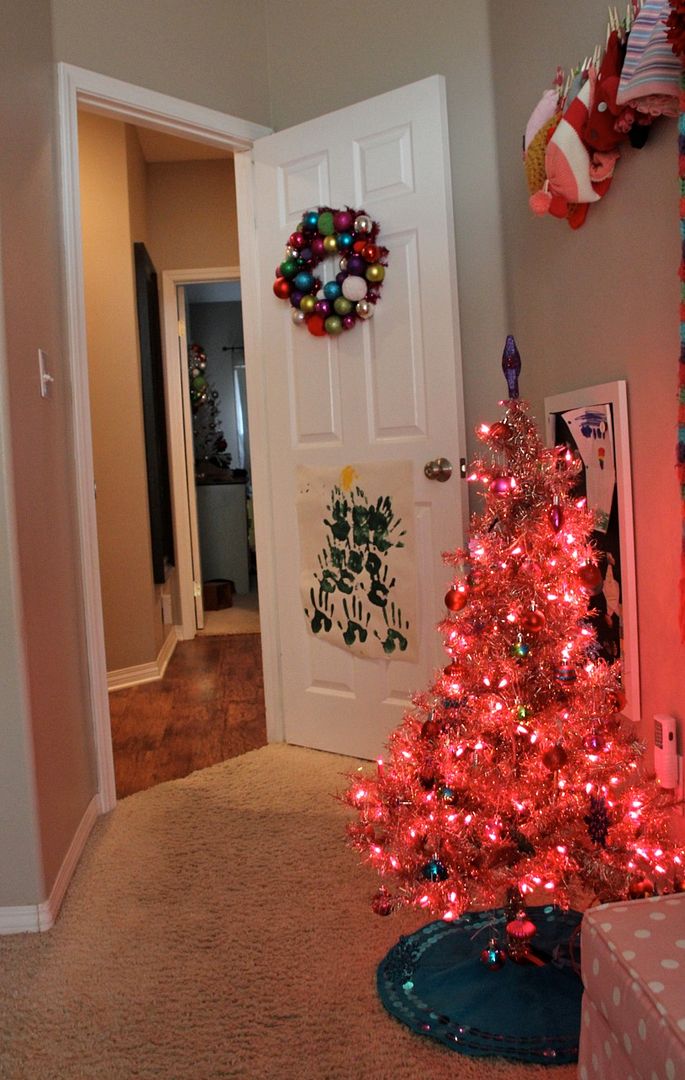 It's Barbie pink lights make the girls so happy.
This year they hung all the brightly colored ornaments on all by themselves and even topped it with their purple star.
Each year the tree loses more pink tinsel, but I'm pretty sure we will keep it until there is nothing left but the frame and pink lights.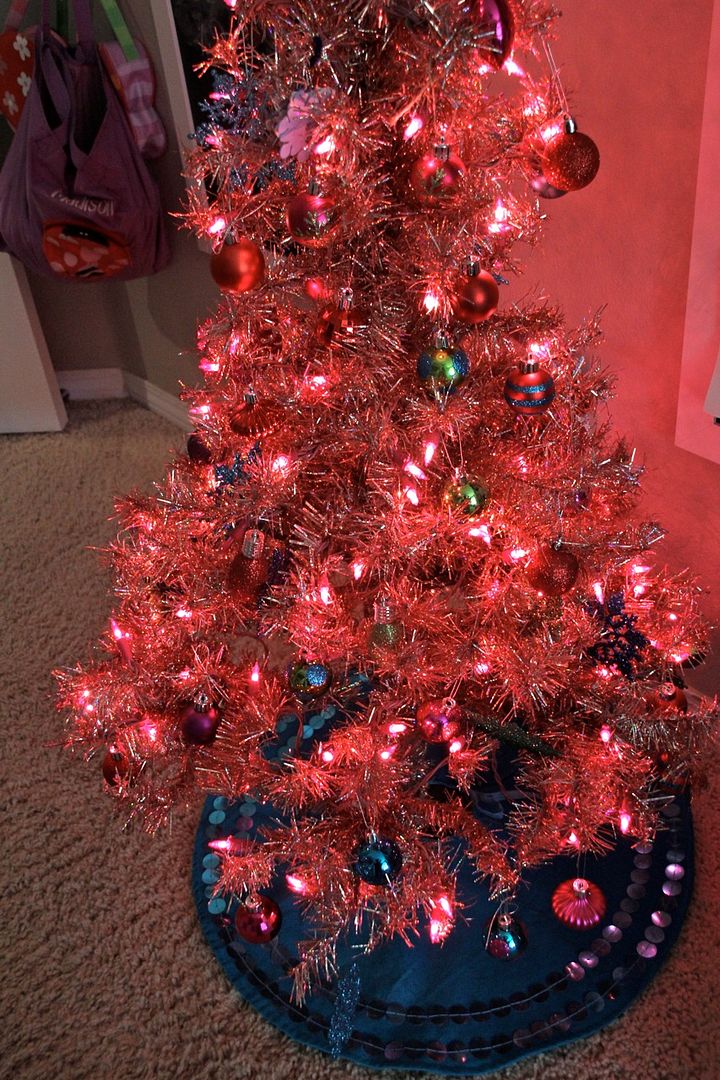 Does the tree on the door count as #9? The girls made it with some of their best friends this year.
They are a family of 4- Kennedy calls their son her boyfriend. She's so smitten with him.
Last week we got the kids together a couple times to craft and made this tree with their hands one day. Oldest at the bottom, the baby is the star handprint at the top.
The girls have a tiny tree in their bathroom, too. They added a couple extra cinnamon ornaments to make it smell like Christmas while they brush their teeth.
That brings us to the last tree in the house- the one in my craft room-the surprise room as we call it (another story for another day)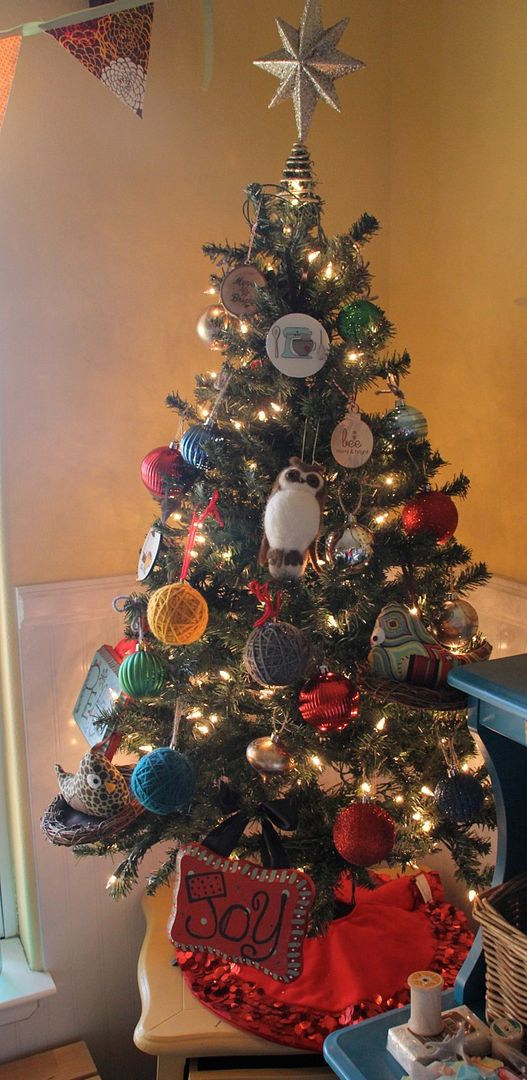 The Surprise Room is a disaster leading up to and following Christmas...OK, it's almost ALWAYS a disaster...for the purposes of this post, we are sticking with the corner that holds my Christmas tree, mmmkay?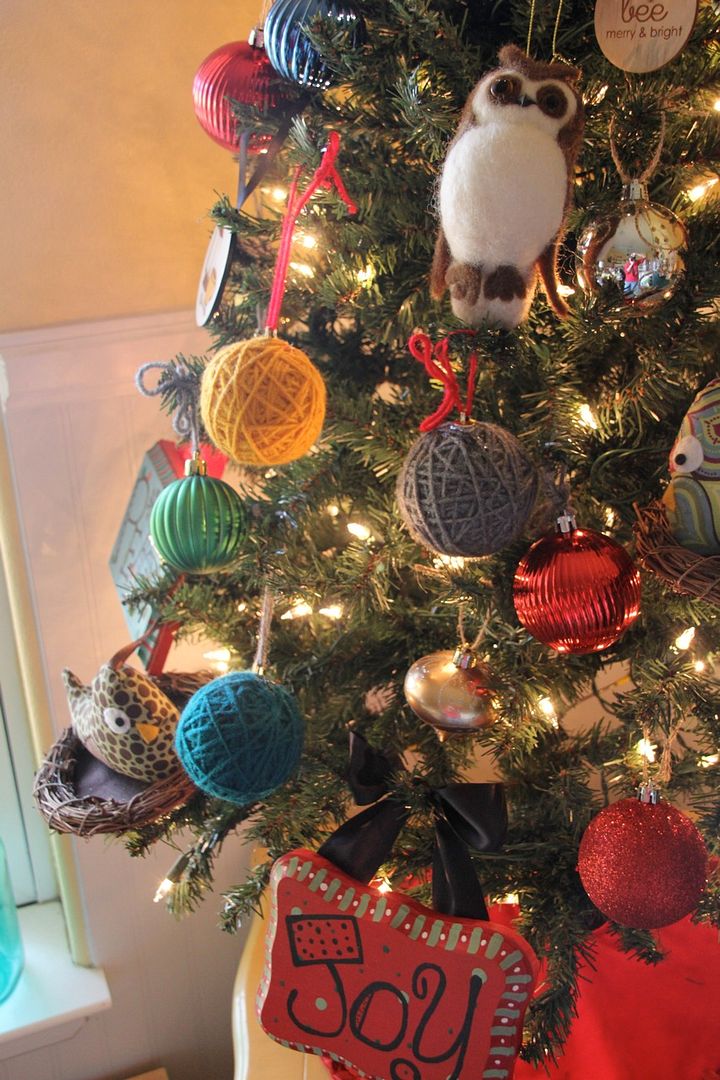 The surprise room tree holds special handmade ornaments, yarn balls, Christmas plaques I painted...it's a tree that reminds me of my blogging and handmade friends.
My 2 newest ornaments on this tree are from Lindsey of
Pen & Paint
. Man I love her work!
The bee merry & bright ornaments was special for vendors last fall.
Mique
is always so good to us! The pretty birch ornament up higher was cut and stamped by Dave and April of
D&A Home
. Such amazing hearts on those two!
This little felted owl lives in the Surprise Room year round because I couldn't bear to pack him away last Christmas. Kimberly, you really do find the best ornaments for me!
That's it. All 11 trees. Did you se

e them all?
Our Christmas house makes me so happy each year. When we get ready to take the big tree down I'll share the photo story of how it gets inside each year. Breadwinner says it might be easier to open the skylight window and drop it in with a crane...Hmmm...there's always next year...
Merry Christmas, friends! I hope your day was filled with joy and your Christmas night was Merry & Bright!
'Glory to God in the highest, and on earth peace, good will toward men.'"

Luke 2: 8-14