Have you heard about
StitchFix
?
My friend
Nat
introduced me to it when she
tried it out a few weeks ago
. After reading her experience, I totally fell in love with the concept and knew I had to try it out!
What is StitchFix you ask?
Stitch Fix is a fun and easy way to keep your wardrobe up-to-date. We get your style and size preferences, then send you a package of stylish goodies to try on at home, in your closet, with your favorite jeans and heels.
You go to
their website
, chose your style preference, size, body shape, price preferences...and they send you a box of clothes hand chosen for you by a style expert! Have you ever shopped with a personal stylist? I know I haven't. Man, what a shopping treat!
I tend to get stuck in my shopping ruts- NY&Co, Old Navy, Target...I try to find pieces that don't fit a style 'mold', but you can only go so far when you are always shopping at the same places with your own personal blinders on. Not to mention, I tend to shy away from hanger disasters. You know- the pieces that look like a hot mess on the hanger...but when you try them on...perfection. If I don't fall in love on the hanger, I'm not likely to try it on.
This is such a fun way to have an expert find new, stylish pieces just for ME!
**My one side note to this:If you are thinking "Wow- that sounds expensive"
Let me just tell you- I am cheap.
On sale, WITH a coupon
is my standard shopping profile. When you set up your style profile, one of your options is price. Be HONEST about your budget. Who wants a box full of designer stuff triple their budget that they can't afford to keep?**
After reading all their
FAQ's
, I filled out my profile and scheduled my first FIX! I literally squealed when it came in the mail!
Opening the box was like Christmas morning!
Brown paper packages. *sigh* I love treats!
The bottom of the box had my inventory list (with my name on it...it's the little things) and an extra little Happy treat.
But that's just secondary to the clothes!!! My favorite part, hands down, were the styling cards.
Each piece had a card with at least 2 styling ideas for the piece.
After emptying my closet and pulling out fall staples, I got to work trying things on.
First up- a brown wrap sweater. I tried it a bunch of ways- taking a nod off the style card. I think I like it, but I can't decide. I also feel wide right now. I'm not telling you that for you to say "Oh girl, you look great, blah, blah, blah" I have put on some SERIOUS weight around my middle and my thighs. For REAL. I've turned into a slob since we found out about our first miscarriage in January, then our second in July. This first box was a reminder (as I pulled things out of my closet to pair with them) that i REALLY need to take better care of myself- most of my jeans wouldn't go past my thighs. Sad. :(
OK- back to the pics....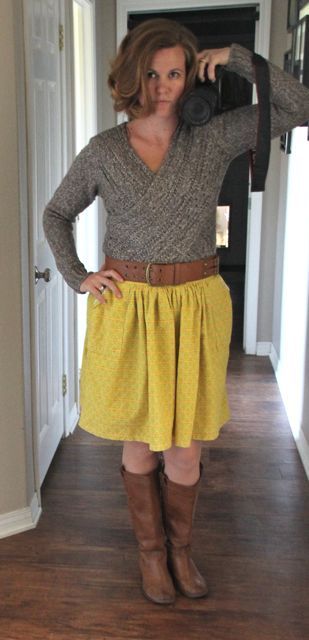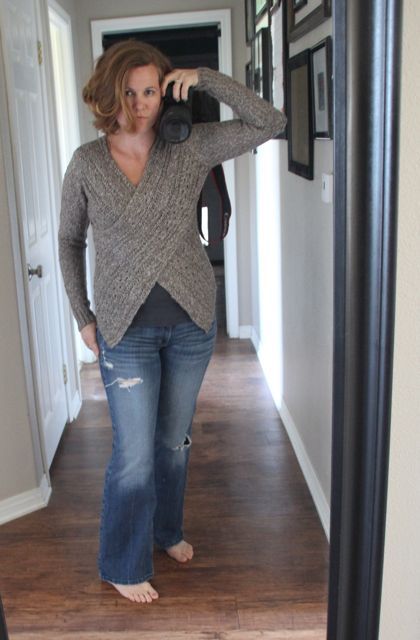 The next piece was a scarf/wrappy thing. Not the technical name. It's a nice cool color, but it's HUGE! I don't really know what to do with it. They show it as a bathing suit wrap or a dress, or scarf. I draped it all over the place. Not really loving it, other than as a scarf- and again, I'm cheap, so don't really need a $39 scarf. Don't get me wrong- phenomenal price for this versatile piece. If I felt more comfortable in any of their other suggested styles, I would totally keep this one.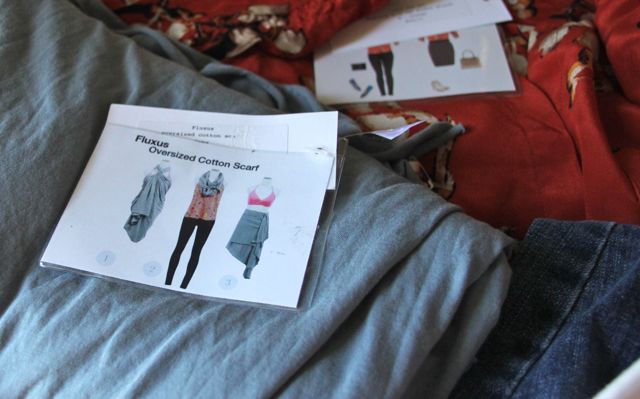 I even tried layering it as a dress under the brown wrap. I just wasn't a fan.
Next up-the dress. I am not super in love with it by itself. I think it does nothing for me in the shape department...though it does hide the areas I'm not in love with. AND I think it's kinda dressy, and when do I ever dress up..um- NEVER.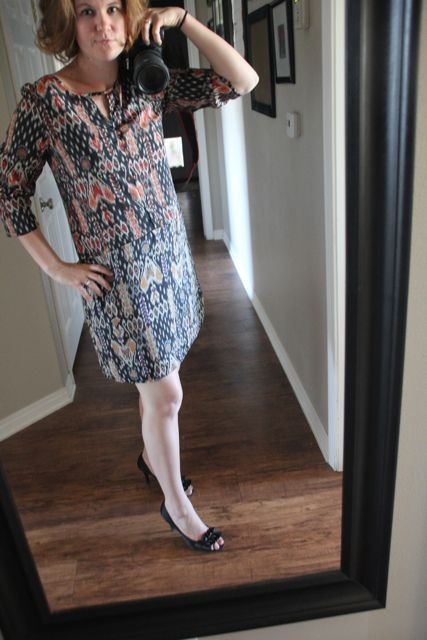 But, I kinda totally dig the 'dress down' look with my boots and belt. Though I want/need new riding boots this year. Time to splurge there and get real leather that doesn't crack and peel...I think :)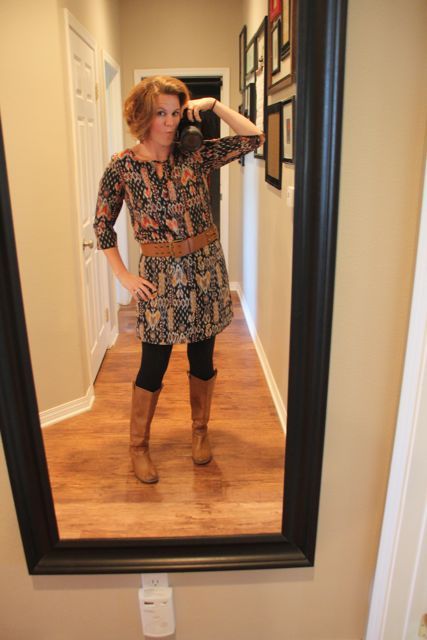 It has a cool cut out in the front and back, too.

#4-A black vest. Way outside of my comfort zone. It just wasn't me. I gave it my all with styling, but it's just not happening.
Last up, a silk blouse. Not gonna lie- tried it on, didn't even try to style it. $115 is out of my price range. One day, maybe. Not to mention, silk plus kids- not so much.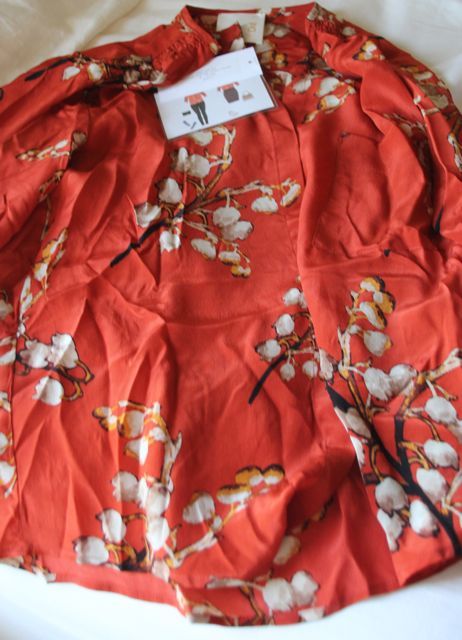 It's pretty fun shopping with my entire closet and all my accessories right at my fingertips!
Oh, and did I mention they sent me a postage paid bag to send back all the pieces I don't want? Easy peasy! I can't WAIT to schedule my next fix. And yes, I get to schedule my Fixes. It's not a 'once a month' subscription. When I need my next shopping Fix, I schedule. No pressure.
That being said, I did learn a few things with this first Fix.
First
, be HONEST about your budget.
Next
, be honest about your STYLE. If you think you want to be
Office Chic
, but you are really
Mommy Daycare
, you will not be happy with a box of dress up clothes you will never wear.
Lastly
, leave lots of comments in the comments areas. Tell your stylist what parts of your body you want to accentuate and what you want to hide. She's a pro, remember! Give her good info about you to work with.
Want your own box of fashion fun?
Sign up here and schedule your first fix!
Be sure to send me pics when you get your first Fix!
PS StitchFix did NOT compensate me to sing their praises. I was just so excited I had to share with you!
Oh, and just for fun- I'm linking up all this fashion with Lindsey for What I Wore Wednesday this week.