I've been looking for the words for over a week now.
I thought today would be the day, but it didn't feel right. Now all of a sudden, I'm overcome and so it seems the best time to share.
It may seem silly to some of you, or inconsequential. To me- it has been all consuming.
A few weeks ago I posted about my body image issues. The post was entitled
Feeling Less than Fabulous.
So many of you responded with words of encouragement and understanding. I felt so uplifted, so moved by the blogging community...then I fell off the blog for a little while. Life got busy at first...a last minute trip to The Queen Bee Market and girls night with sweet friends followed by a weekend away with one of my favorite real life friends and attending the Elevate Conference.
Two days after Elevate I did a little math and knew something was off.
A quick test revealed those amazing and scary double pink lines.....
pregnant
.
I was overwhelmed. Since
our loss in January
, we hadn't talked much about growing our family again. I knew Breadwinner was happy with our family of four. I knew 'starting over' with a little one was not top on his priority list. I knew sharing the news with him would not be easy. This pregnancy was not planned. I blogged about my fear, and left it unpublished.
June 12th I saw those two pink lines. We decided to tell our parents and closest friends and wait until after our first doctor's appointment to share with everyone else. Breadwinner went from overwhelmed to frustrated to nervous to excited-particularly at the idea of finally having a boy. I watched friends making new announcements every day on Instagram and Facebook. Sharing their tiny baby bumps and first ultrasound photos. I followed friends who announced their pregnancies back in December when we found out about our last little peanut...their gorgeous growing bellies proudly showcased. I couldn't wait for July 2nd to see that healthy bean and post a little photo of my already showing baby bump and that sweet little bean in an ultrasound photo.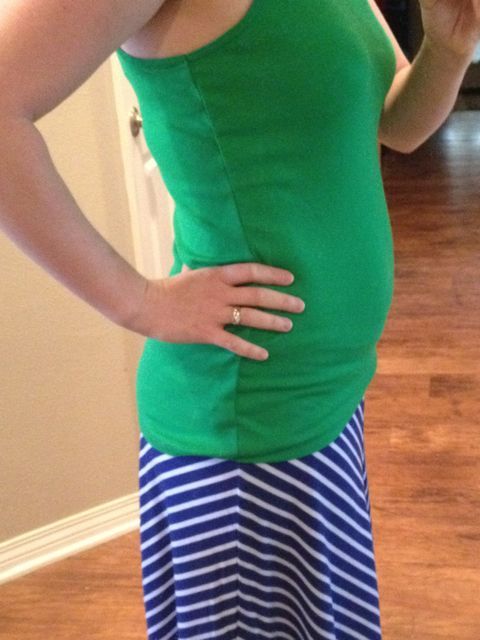 June 29th the bleeding started. An ultrasound with my doctor that day revealed what I already suspected. An empty uterus...more accurately, an empty sac.
That black space inside the pear shaped outline-is the sac, where my baby should be.
Consecutive blood tests Friday, then Monday confirmed the doctor's early suspected diagnosis-
a blighted ovum.
I haven't decided what is worse- hearing that there never
was
a baby, or hearing that the baby is gone.
For two and a half weeks I hinted on instagram and on the blog about needing to 'make room for new things' we were already planning out the new baby's space shared in my craft room. Making room to bring the crib down out of the attic, planning out changing table space....
Breadwinner took last week off. We cancelled our planned camping trip.
In January I poured myself into our house-painting nearly every room, redecorating, it was a great distraction. This time, I tried to lean on my husband. I tried to talk to him everyday about moving on. I told him God gave us two chances, we need to get rid of all the baby stuff and move on. He listened and told me to wait. Now is not the time to make big decisions.
I wrote the two and a half weeks I was pregnant. Typed out in raw emotion a couple of days. I wasn't sure when or if I would ever hit publish.
Over the next couple of days I want to share those words. I know some people think it's strange to expose oneself on the internet this way, but for me...for me it feels therapeutic. While I'm not sure how I feel right now- I know exactly how I felt then. I'm hoping those feelings will guide me in the next few months as we make decisions about our family.
In January I turned to God and begged him to save our baby. He drew me in.
On June 29th, I asked him to give me
peace
regardless of his decision. Then I pushed myself away.
I know many people are praying for me, for peace, for guidance- I guess I'm afraid of what God will reveal to me. Our family felt incomplete to me after Kennedy was born almost 4 years ago. Despite how Breadwinner felt, I always felt God whispering his blessing on growing our family.
I don't hear that whisper anymore. It scares me.
I
know
I should draw
nearer
to God in times like this. Let Him guide me, comfort me. Sometimes that's easier said than done.
I'm afraid of what He is revealing.
I'm trying to be brave and listen...I know I'm not trying hard enough.
Sometimes it takes brokenness to feel whole again.
I know my story is not unlike many other women. I realize these tiny losses are nothing compared to what some women go through. I have two gorgeous and healthy girls. God provides for our family and continues to bless us every day. I know He has a purpose in all this. I know it is His plan and will all be for His glory.
It's processing all this that has me stumped. I'm working on moving forward and learning from this. I'm trying to find the courage to share and trust in His plan.
Should you join me on this journey, I simply ask that you be gentle in your words.
A sweet friend shared this scripture with me this week. A beautiful reminder that even in times of trouble and heartache, the Lord gives us just what we need.
Then they cried to the LORD in their trouble, and he
delivered them from their distress. He made the storm be still, and
the waves of the sea were hushed. Then they were glad that the waters
were quiet, and he brought them to their desired haven
Psalm 107:28-30