It's been weeks since I shared a What I Wore Wednesday post.
I got dressed every day. In fact, most days I even put on some pretty cute clothes.
Unfortunately, I also put on a few pounds. More than a few, quite actually.
It's tough to share fashion inspiration when you aren't happy in your own skin.
I've always envied women who are totally content in their own skin regardless of body type or shape.
No matter my size, I've always struggled with positive self image.
In college I was a size 4 and everything was eh, hem- perky...I remember complaining about the amount of 'fat' hanging over the top of my jeans. Looking back, I'm pretty sure that was skin- there was so little fat on my body!
Now, I see someone wearing a top, or dress, or pair of shorts I have in my closet and think "Why doesn't it look like that on ME?"
The nice big reality slap in the face came last week when I saw so many of my friends posting photos on Instagram and Twitter of their new, cute mint skinny crop pants. I saw them on clearance at my Target, tried them on and nearly cried. I would have cried if the kids were not with me. I couldn't button them- not even a size larger than I usually wear, and oh the thighs. Let's just say, it was NOT pretty. Dimply comes to mind. Dimples belong on cheeks...on faces...not on thighs.
So, so sad.
My personal focus has changed. It's time to take back my health and my body.
In the meantime, I'm being brave.
I'm posting.
Sunday-church
I chose a coral flowy top with flowy white linen pants. After looking at the photos Breadwinner took, I realized it was NOT a good choice.
Most of the photos I look pregnant- or 30 lbs heavier. Dressing for your body is so important.
I don't know how to dress this body. I try to mask it-and it makes me look bigger.
coral rosette front top, white linen pants, gray flower sandals- NY&Co, brown cropped jacket-Ann Taylor Loft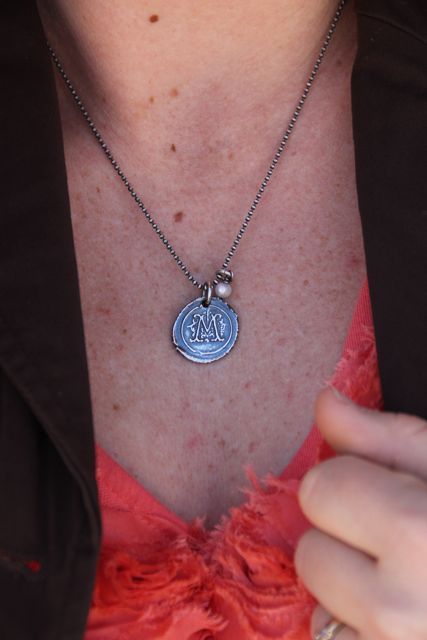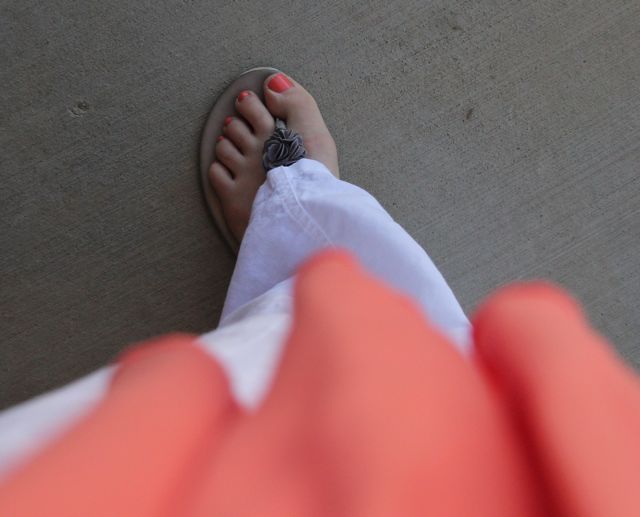 Thanks to a birthday gift from another Fairly Fab Party attendee, I have painted toenails! AND they match my top! (Hazard from Sinful Colors at Target)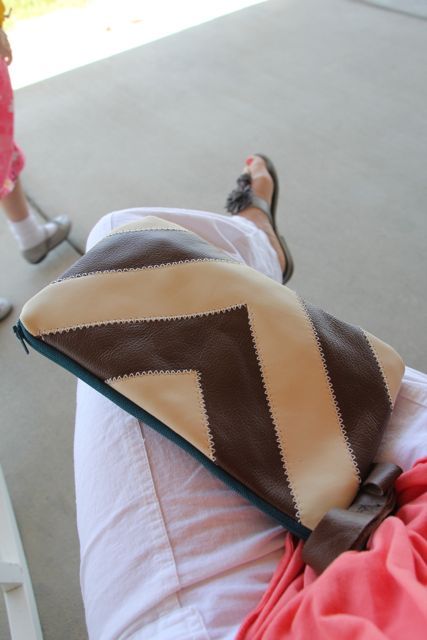 And then there's
Kristen
, my sweet friend! Happy Birthday to ME- a brand new HANDMADE, leather, chevron clutch. Yes- handmade! Yes- real genuine leather. Yes-Chevron. And oh does she have some tricks up her sleeve! I SO wish I could go shop
The Queen Bee Market
this weekend to see more of her
new creations
!
Tuesday-Catching up at home- my one kid free morning a week...until Summer starts in two weeks (pray for my sanity....theirs, too!)
It was a relaxing day.
Stacy Lynn
jersey dress, belt, leggings-Target, same fluffy sandals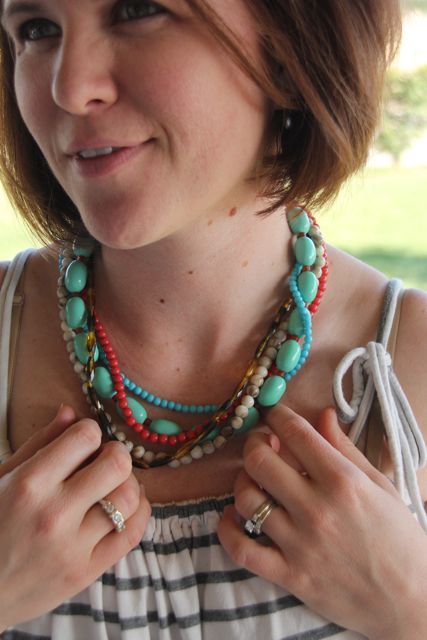 Do you struggle with body image?
It's not fun. It's toxic. What do you do to combat those feelings?
On a happy note- Did you hear about the Swag Giveaway Extravaganza?! A new giveaway announced each day this week from the #FairlyFabParty sponsors. Don't forget to enter!