This is a Sponsored post written by me on behalf of StyleMint for SocialSpark. All opinions are 100% mine.
I'm a co-dependent shopper.
There, I said it.
It's nearly impossible for me to shop by myself. I'm such a people person- I love the advice of my friends..and even strangers, sometimes. Yep, I'm that weird girl in the fitting room that makes eye contact and says, 'Excuse me, would you mind giving me your opinion on this? Is this dress weird on me?' I've been known to send picture messages to friends from the fitting rooms of stores just to get more opinions! Are you laughing?
You are laughing-probably because I sent you a picture one day, huh?
Well, fear not- my days of conferring with my coast to coast personal shoppers just may be over thanks to StyleMint!

StyleMint is a website launched by Mary-Kate Olsen and Ashley Olsen for finding just the perfect tee! It's awesome.
Start by going to StyleMint.com and answering a few questions about your personal style. Then your very own electronic personal shopper preselects adorable tees just for you! There are new styles listed every month so you will always find something just perfect for the season.
How cute is this slouchy top?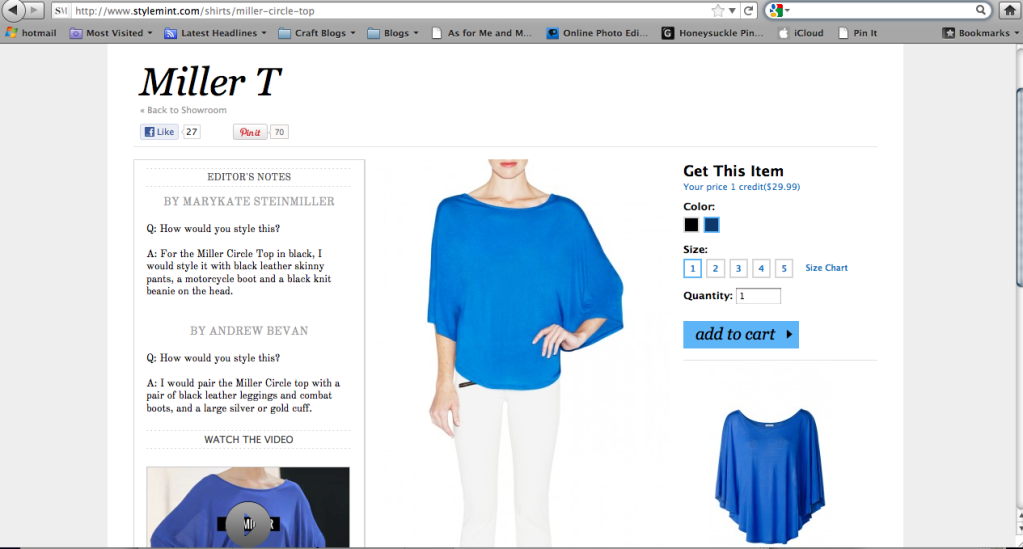 And it you don't- no biggie, check back again next time you want a new tee and see what your personal shopper has in mind for you.
Every tee is just $29.95 with FREE SHIPPING! My kind of deal.
AND it gets better!
From now until May 31st, you can get an even better deal! Use coupon code SPARK25 for 25% off your first T Shirt from StyleMint (first time Stylemint buyers)
What are you waiting for?!
It's time to go shopping!