**Not exactly why this post from several months ago suddenly popped up today, but why not enjoy a warm hearty dinner in the middle of July?**
Last fall I had a craving for Chicken Pot Pie. A few days later a friend of mine posted a link on Facebook for
Hungry Girl Chicken Pot Pie recipe
.
Such a simple recipe, I decided to try it...with a few twists.
Now it has become a staple at our house and every guest wants the recipe! I'm amazed that a few simple ingredients can make such deliciousness!
This recipe is easy to alter for larger or smaller serving sizes, but I will give you the portions we use.
You will need:
Approx 1 lb chicken breasts (we actually use chicken tenderloins because they thaw faster, and I'm not always great about planning ahead...and by not always, I mean pretty much never)
1 bag frozen assorted veggies (confession: I don't like lima beans-this mix has them, I search and search to find the assorted veggies without them...sometimes I fail)
2-3 cans Campbell's condensed Cream of Mushroom (or Chicken) soup (No, it doesn't have to be Campbell's- No, they are not paying me to say this, and yes-I do believe it is the best with no substitutes...plus you can cut off the the upc and take it to your local school to help them out-Bonus!)
1 package of refrigerator crescent rolls...the new crescent roll sheets would work well with this, too.
and the most important flavor ingredient....
Montreal Chicken seasoning.
I'm not kidding. It MAKES the dish.
Preheat your oven to 375degrees
Start by cubing your chicken into bite size pieces, season with your Montreal Chicken seasoning and saute in extra virgin olive oil until fully cooked.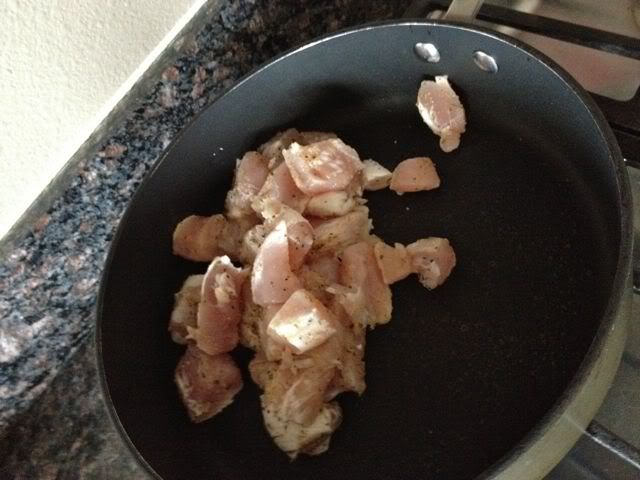 In the meantime, prepare your veggies as directed by the package. I like the steam in bag veggies. Open 2 cans of cream of mushroom (or chicken) soup and empty them into your favorite baking dish. I absolutely love my Pampered Chef Deep baker. Plus the stone is microwaveable!
I like to sprinkle a few teaspoons (or tablespoons!) of the Montreal Seasoning in my soup mixture for extra flavor. Add your cooked veggies and chicken to the soup and combine well. This is where I cheat a little. I microwave the entire mixture for 2-3 minutes to heat throughout.
This time I added some pre-cooked wide egg noodles, too. The recipe is very forgiving. Be creative in what you add.
This is where you decide whether or not you want the third can of soup. I like my pot pie pretty soupy, so I added the extra can this time. If your mixture looks to be the consistency you like, leave it as is.
Next, unroll your crescent rolls and press them over the top of your mixture. I leave mine fairly loose, but you can pinch your triangles into a solid sheet if you prefer.
Put your pot pie in the oven to bake your crust. Approx 12-15 minutes or until nice and brown.
Allow the pie to cool slightly and set up 5 minutes before serving.
Enjoy!