The last few months have been less than perfect.
Tough on our marriage, tough on our parenting skills. Stress. Worry. Sadness. Frustration.
You name it- we've experienced it.
God has been so good throughout.
He knew we needed some time together as a family- and this week he provided.
The girls were on Spring Break last week and Breadwinner decided he would take Friday off work to round out their week off with our very first family tent camping trip.
Before we had the kids, Breadwinner and I went tent camping all the time. We would load up the mighty jeep, Sierra-our trusty dog, coolers full of food and drinks, and our tent and head toward the desert. Our last civilization stop was always the Taco Bell in Mojave for 'dinner' and extra soft tacos for the camp fire hang out time that first night.
Now we live in the desert 15 minutes from Mojave, but we didn't want to deprive the girls of the full experience *wink, wink*
We left just after lunch time on Friday with a now slightly larger camping vehicle-the Excursion...or as Kennedy says "Daddy's Monsta Truck" and made our first pit stop.
PS The Doritos tacos taste just like regular tacos. Total bust there.
An hour or so later, we were driving past Lake Isabella well on our way to our camp destination.
The girls couldn't get out of the truck to explore fast enough when we finally arrived at the Kern River.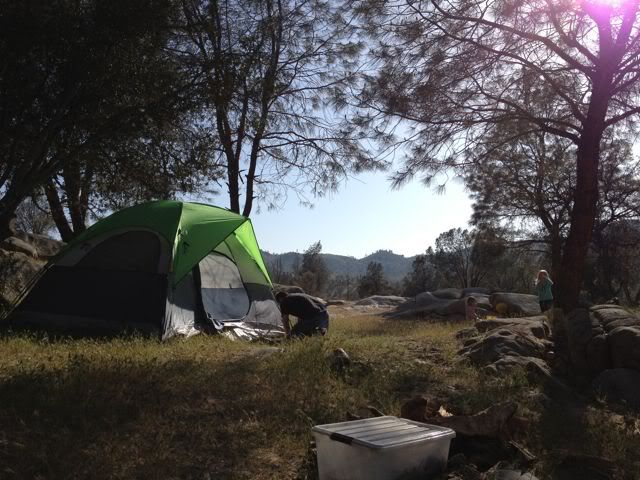 I helped Breadwinner set up camp as the girls explored our new territory. The last time we were at the Kern, I was 4 months pregnant with Kennedy and we were camping in our little old Class C motorhome. It went to live with another family when we moved.
After a few hours of setting up, skipping rocks on the river, searching for treasures, and climbing big boulders it was time to settle in for the night.
Breadwinner made our campfire.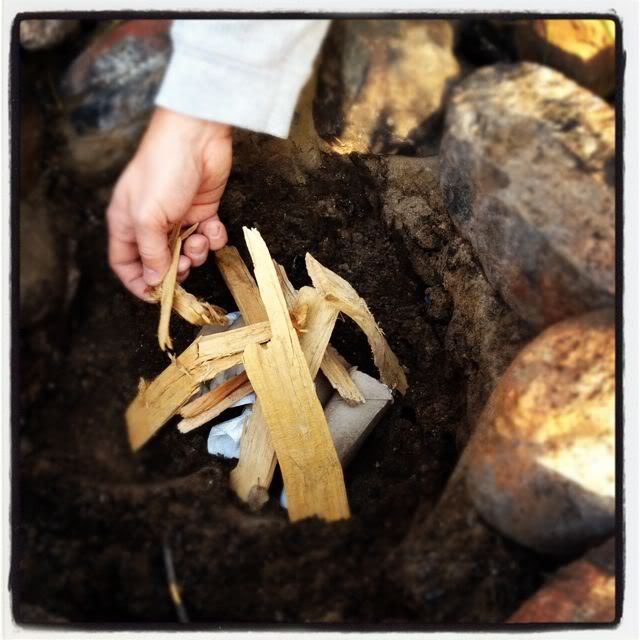 We kept it easy with hotdogs and fruit for dinner.
As the sun quickly set, the fire roared.
So naturally the S'more fixins came out!
They were gooey and melty and sticky- just as they should be.
The girls made no argument at pj, brushing teeth, and bed time. They were exhausted! No sooner did their bodies slide into sleeping bags and their heads hit pillows were they out!
It was lovely. Breadwinner and I spent nearly 5 glorious hours alone by the campfire. Just the two of us and no interruptions in conversation. Words just poured out of us. It was the date night we so desperately needed. It was a time of reflection, a beautiful bonding time. Time in conversation and fellowship we so desperately needed to recharge our marriage.
We headed to bed way too late, but felt such an energy the next morning. Before you get your mind too far in the gutter...it was a night of conversation. We were talking....not, eh hem...
In any event, we decided to skip our original plan of heading north to see the Sequoias and instead meet up with some of our best friends who were camping in their brand new giant class A motorhome out in the desert.
We spent the afternoon with them, then made the trek home.
Windmills on the horizon told us we were close!
It was so fantastic to be home, unpacked, kids bathed an in their own beds all in ample time for a good nights sleep the night before Easter.
I tweeted that night a photo of this years Easter baskets.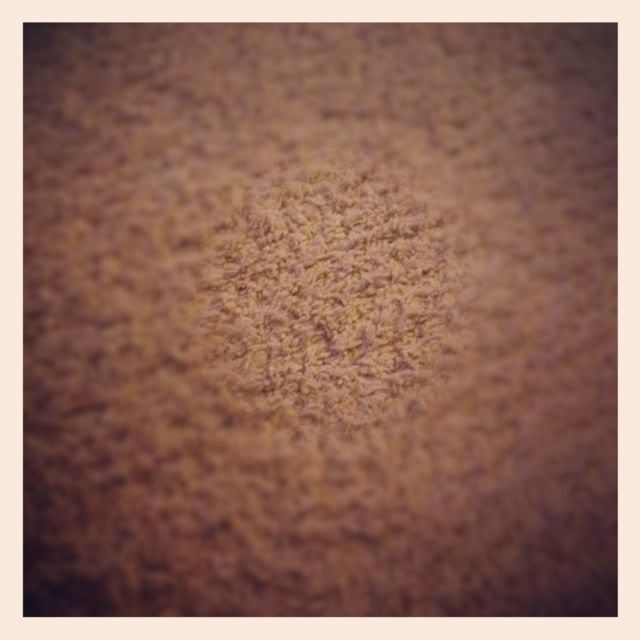 The girls have had trouble with selfishness and greed in the past several months. Lots of 'I Want that!'s and 'I don't want to share's. Disobedience. I know it's my fault. I've spoiled them too much. We are working to change that by reminding them more of their blessings. Easter is about our RISEN Savior and the Empty tomb. This year we focused on the true meaning of Easter. I expected more tears Sunday morning, but was pleasantly surprised with big smiles because of their new white dress shoes and sundresses for church.
We made Resurrection Rolls, thanks to
Kristen's post
, before church.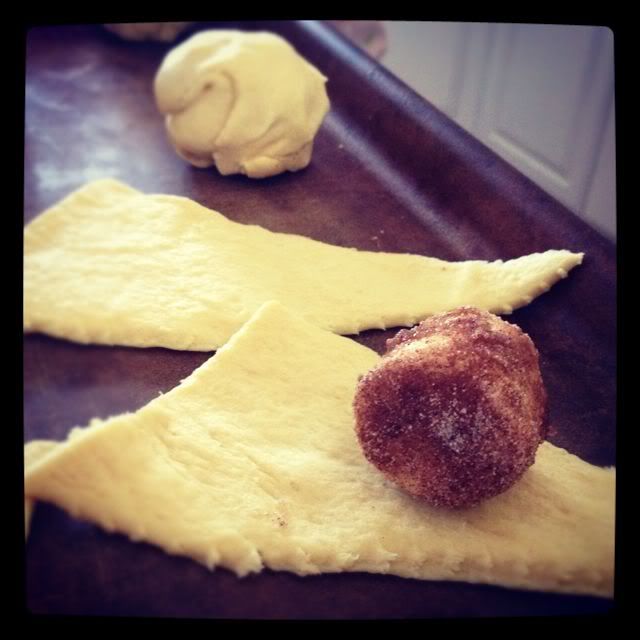 It was such a blessing to celebrate Jesus, our RISEN Savior. The most beautiful sacrifice.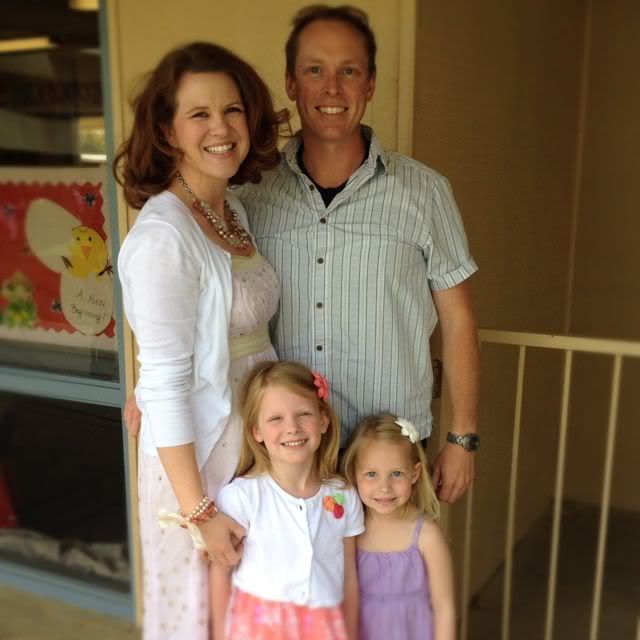 Kennedy couldn't have been cuter with her favorite 'boyfriend'. My oh my does she love this little man! We are honored to call his family our friends.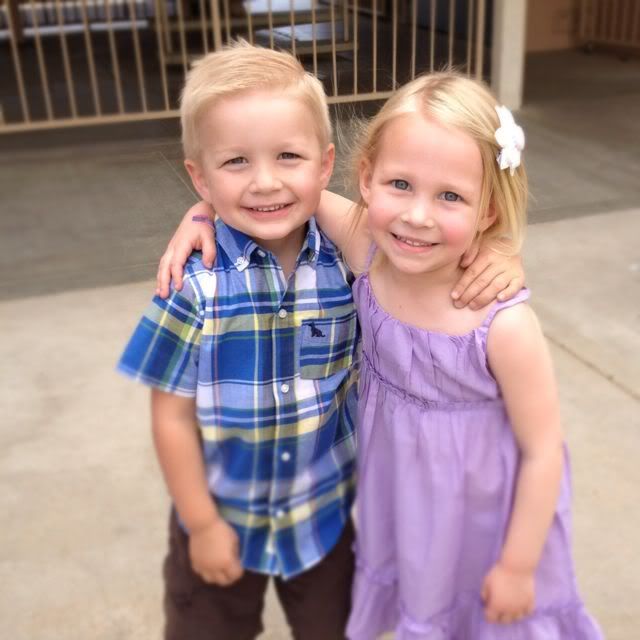 The girls and I spent our Monday after Easter- the last day off before we were back to school from Spring Break- doing a little Ikea shopping. Quite the haul and a perfect temporary solution to our living room problem. (that's the next post!) I spent my evening assembling.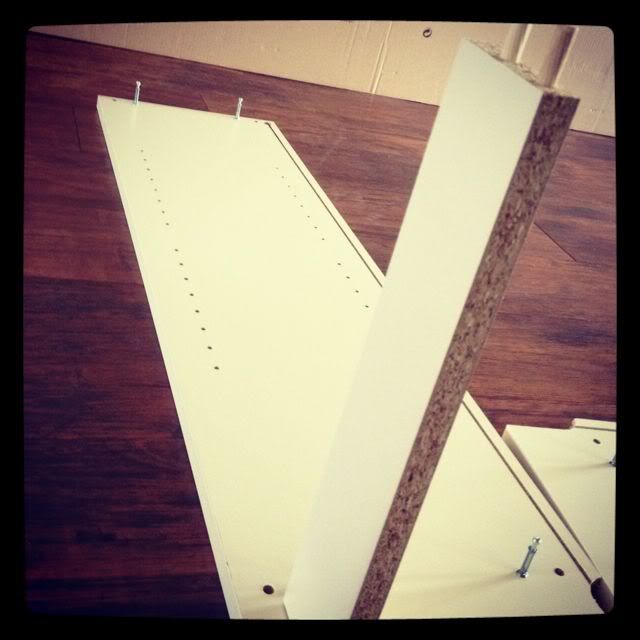 The rest of this week has been a bit crazy. I used my spare time to clean up and out a few things in the garage. It's always fun to find hidden treasures you've long since forgotten about.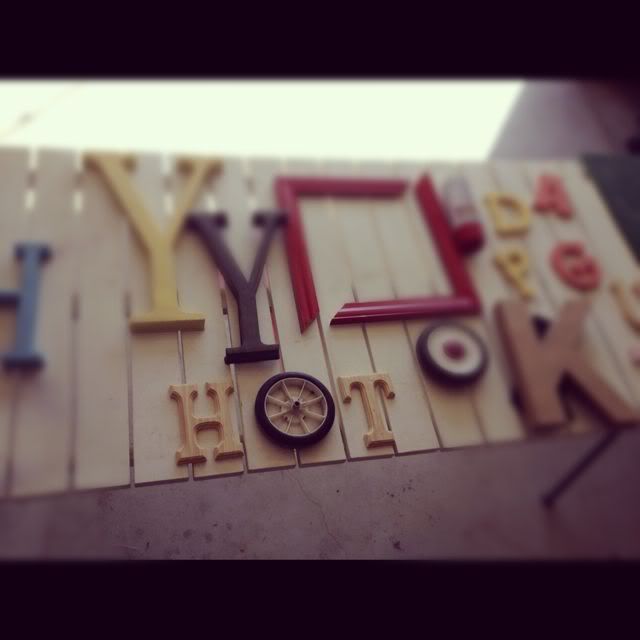 These little monkeys make me so happy....most of the time. ;)
Editing our Easter pics made me grin from ear to ear.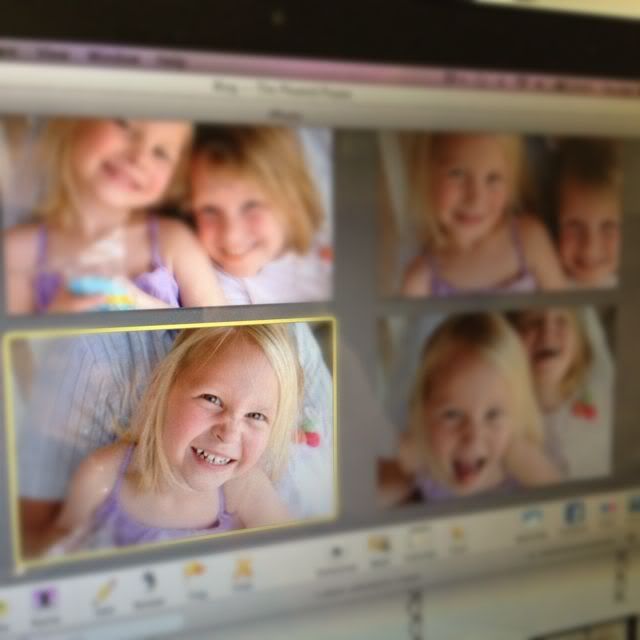 And then there is this. My inspiration for our living room makeover and kitchen spruce up. Oh I can't wait to show you what we've done thus far and where I need your help.
Linking up for my VERY FIRST
Insta-Friday
. Thank you,
Jeannett
.
Did you see- it's nearly time for the
Fairly Fabulous Crafting Slumber Party
(whew- that's a mouthful!) Are you registered yet?!