I've always been a prissy girl.
Pink, ruffled, girly- when I was a little girl, the frillier the better.
To potty train me, my mom put ruffle bottom panties on me. That's it.
I didn't want to soil my pretty panties, so I didn't.
My style is ever evolving, but a little sass or girlie flair has always been an ingredient.
When it comes to 'Plain Jane' jeans and a t-shirt, unless I'm painting or cleaning house, you won't see it on me. Call it the curse of the prissy girl. I just can't do it.
All it takes is a little something to go from 'Plain Jane' to touch of sass.
Oh and a friend to make you laugh thru a quick 'hey, before I leave your house, snap a few pics for me?' photo shoot.
skinny jeans-Forever 21
charcoal v-neck tee shirt-Old Navy
flowy blue kind of stripey sweater wrap (how's THAT for a name)- NY&Co
multi-strand funky scarf-handmade Christmas gift from Kimberly, sold at Eclectic Elegance
favorite boots-best hand me down ever
Sometimes a kick pleat and ruffle blowing in the wind are enough to make a plain pairing feel like a 'put-together' outfit. Is it still a kick pleat if it's at the top of the back of a jacket? You aren't kicking anything....but it kicks out the fabric...what is it really called?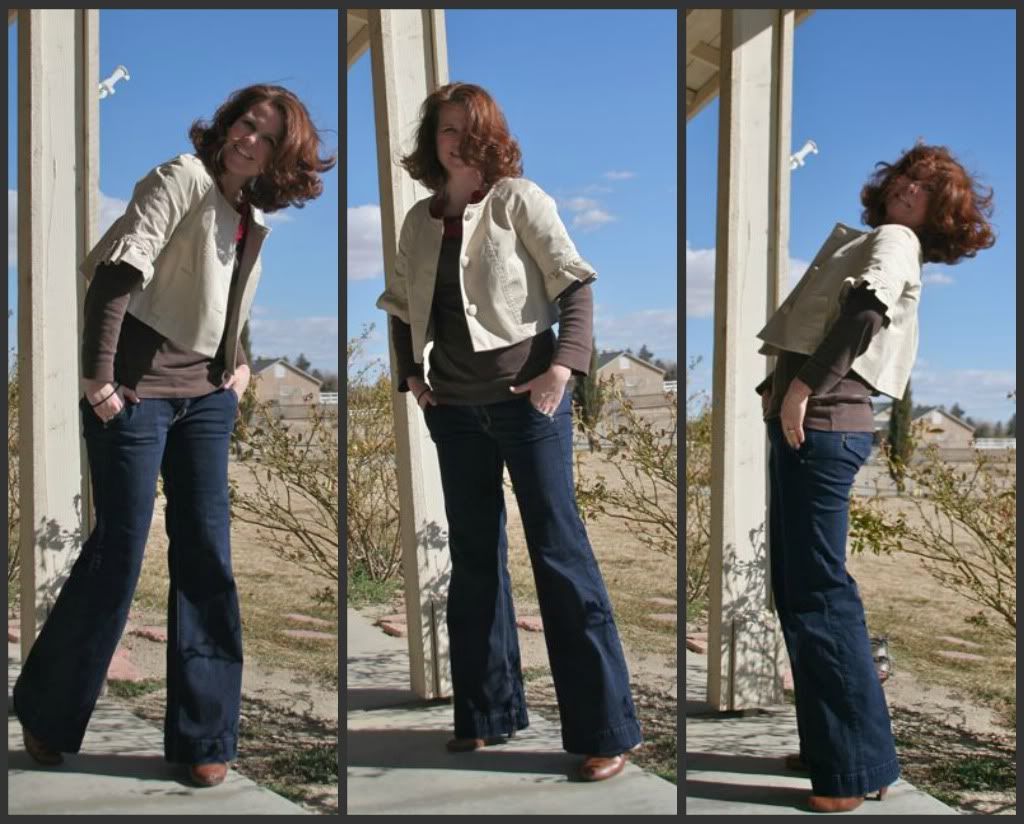 It was so windy, I couldn't keep my hair out of my face. My five year old thought it was hysterical the wind nearly blew me over...but Oh the sky is such a glorious shade of blue in the desert when the high winds blow all the clouds away.
vintage flare trouser jeans-American Eagle Outfitters
chocolate brown boatneck tee-Old Navy
cropped, ruffle sleeve swing jacket-Express
caramel colored booties-Charming Charlie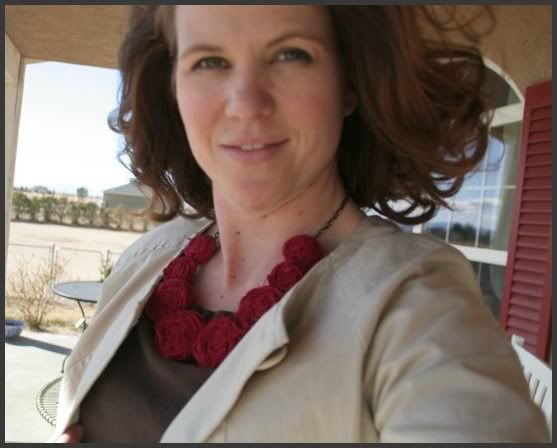 red modern pearl statement necklace-Allorahandmade
How do you wear jeans and a t-shirt? Dressed up? Dressed down? Accessorized?
Linking up with
Lindsey
and
Nina
this week.