Do you ever put together an outfit, look in the mirror and think,
"Hmmm...is this daring and fabulous? or horrific fail?"
That was me on Saturday.
Luckily, my friends are quite used to my madness...so, to the mirror I went.
Wet hair, no make-up and all.
Click.
Send: 'Yes? or No?'

Having friends in several time zones across the country makes it convenient to text pics at all times of day. I love taking my friends 'shopping' with me via fitting room outfit 'should I buy this' photos.
This time, both friends agreed-
'no'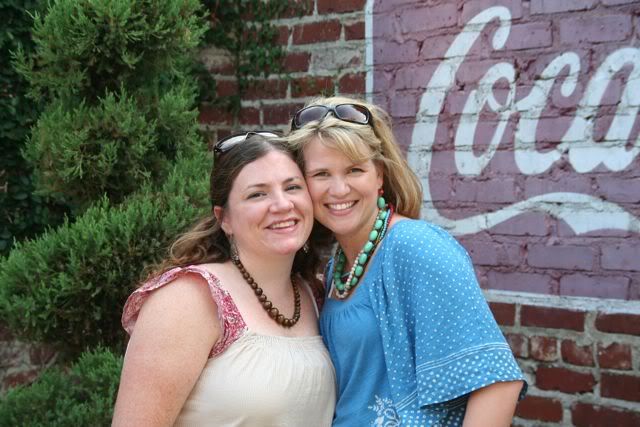 This top is actually super cute usually. See? (two summers ago- maybe the blonde hair is better? or the 10 fewer pounds?) PS- This is my BFF, Shopgal!
Back to the drawing board.
Hair now dried and up in hot rollers- I have no shame.
Click.
Send: 'better?'
Before the responses came in, I decided to ditch the belt.
Wasn't feeling it.
Took the rollers out first.
Click.
Send: 'better without the belt?'
Response: 'no. needs belt.'
Belt back on.
Fluffed and accessorized hair.
Shoes on.
Click.
Send: 'Final Decision'
Response: 'Done'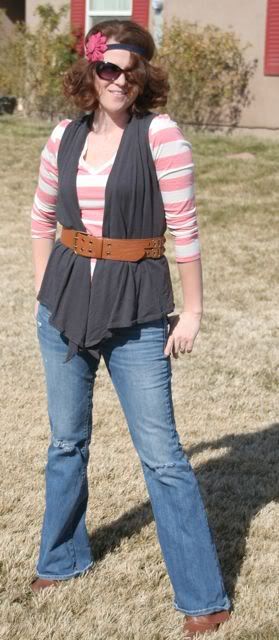 Sometimes it takes a village.

gray flowy vest, high waist vintage flair jeans-American Eagle Outfitters
peach stripe v-neck tee-Old Navy
wide belt-Target
booties-Charming Charlie's
Bloom headband-Lillybug Lane
The perfect outfit for a trip to the sky!