A few weeks ago
I asked for your help
with my girls' bedroom.
It's still in process, but I thought you'd like an update.
This first photo is a little bit of a cheat. The before was taken nearly a year ago, so a few changes were made. The first post gives more info on the befores.
As for the now- new paint color, Barefoot Beach by Olympic Primer One (more on that later)- not much different than before. Just a nice, fresh coat of paint taking the room from warm tone to cool tone. And a whole new corner of toys! The girls' kitchen and new doll house have a new home in their room.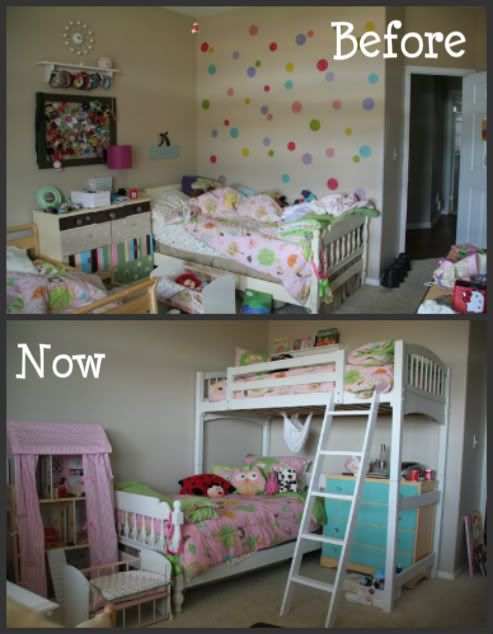 The polka dots are gone and the new craigslist loft bed got a crisp white makeover and a sturdy new support system underneath (thank you, engineer Breadwinner)
Madison's old bed
is fresh and new for Kennedy with new paint and her own twin size big girl bedding. We did decide to keep the
Love and Nature
bedding for now since we already had one full set and lots of coordinating pillows. Since I took these 'now' photos, I finished painting Madison's dresser. Now the entire piece is the bright turquoisey-blue oops paint color. Oh and wait until you see the pulls close up!
Do you like the little hammock hanging from the bottom of the top bunk? Big sister, Madison made it for her little sister's toys?
See the brown hanging shelf in the 'before' photo? It's in the process of getting a makeover. It will hang on the wall between the white crates on the floor and the the white shelf of headbands. Why so low? It's the perfect home for all the stuffed animals and baby dolls currently stacked on the crates (full of baby handmade baby blankets)! The clothesline returned-we have tons of hats year round- and the hair accessories got a new home.
Kennedy's dresser found a new home in the closet next to the dress up salon (it's a big closet), so no refinishing on that piece just yet.
A few more projects remain before the final reveal.
It is already SUCH a transformation.
Does it make you want to come play?