It's been a
long, strange
month and a half
to say the
least.
Through it all, I managed to get dressed.
Nearly every day.
In some pretty fabulous pairings and some adorable new boots.
Sadly, the camera and I didn't always connect.
That just means I have plenty of time to put those outfits back together and try again!
Way back in mid December it was actually a little chilly around here and then Southern California got this weird Spring weather spell. Some people are loving it.
Me?
It's WINTER friends. W.I.N.T.E.R.
You remember from Kindergarten- in the winter it's cold. We make snow men. There are snowflakes on the bulletin boards.
We do not wear tank tops.
We do not go swimming.
Wrong season.
While waiting for the
real
winter to return, I have had some fun pulling forgotten pieces out from the depths of the closet.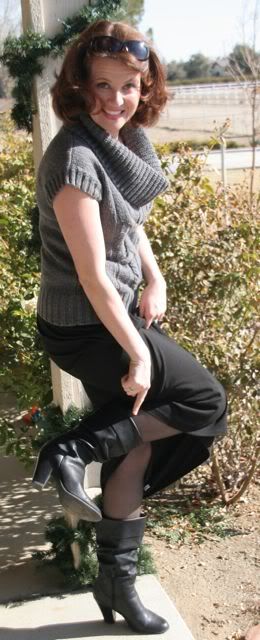 Charcoal cowl neck-American Eagle (I think? maybe Gap? it's pretty old), long black jersey skirt-NY&Co, black slouchy boots I haven't worn in...eh hem- let's just say they were pretty dusty-JCPenney- who knew?
New Year's Day- my church outfit
pink ruffle cardi-Old Navy, black eyelet full skirt-
Stacy Lynn
, white tee/black tights-old
silver flower belt-NY&Co, Gray Rosies-
AlloraHandmade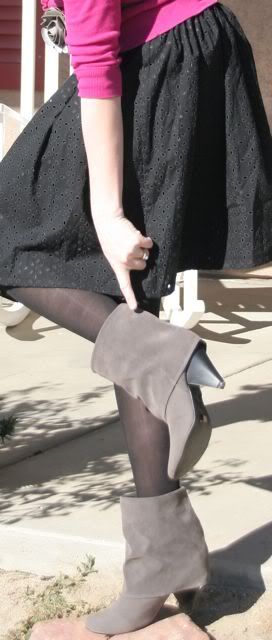 Do you LOVE my new booties as much as I do? I'm stepping waaayyy out of my comfort zone. Short boots/booties with skirts are new to me but I'm loving the look.
These gorgeous gray suede babies are courtesy of
Charming Charlie
Did I mention we have one at our mall?
feel free to send gift cards. Kidding...but if you really want...
This past Sunday the girls wanted their hair curled like Mommy.
They looked so sassy, we couldn't resist a few photos together- even though Madison tried to knock me over.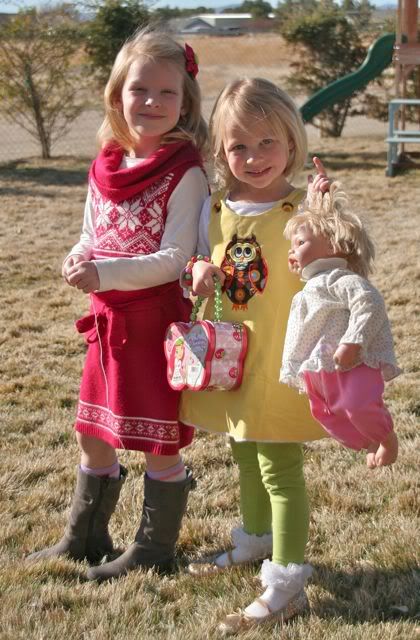 They are beautiful reminders of how richly God has already blessed our family.
All their sass and self expression makes some days challenging, but over the last week it's made me fall more in love with being a mom!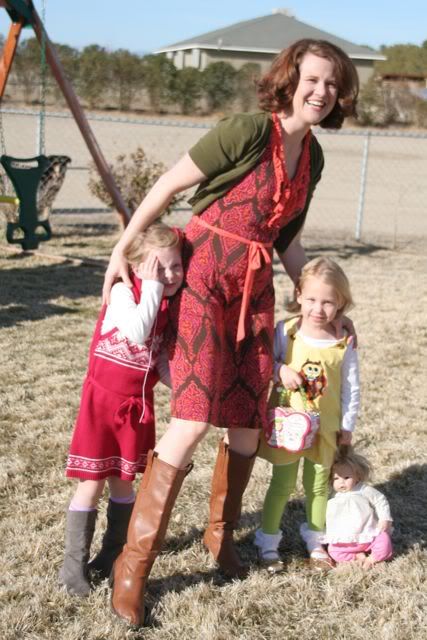 They are my heart and my reason for staying strong this week.
Madison-fuschia sweater dress and white tee-
Crazy 8
, tall Fancy Nancy socks-Target, fuschia bloom clip-
Lillybug Lane
Kennedy-Yellow dress gift from my best friend, Kimberly- likely
Dizzy Dragonfly
, white tee/green leggings-Carter's, gold sparkle shoes-also from Aunt Kimberly
Me-dress and shrug-Target, boots- my faves from Kimberly
Today.
I knew it might not be an easy day. I wanted to feel confident. I wanted to feel strong.
(side note: make sure manual focus is not clicked on when you hand your camera to a friend who is afraid of your camera)
Black and white stripes with yellow multi-colored stripe skirt, plum belt and rarely worn black boots-it worked for me today. It was out of my comfort zone, but it felt good.
skirt-
Stacy Lynn
, tee-Old Navy, belt-NY&Co, same black boots
Thank you for staying with me through this journey.
Thank you for praying with me, for encouraging me.
Thank you for supporting me. Thank you for lifting me up.
It's a new year, full of new adventures.
Let's continue to pray LIFE, live LIFE together this year.
Welcome 2012.
Let's DO this!