Sometimes it feels like my weeks run Wednesday-Tuesday instead of Sunday-Monday.
Monday night is my Sunday night as I 'work' at the
preschool
Tuesday and Wednesday.
It's also my 'hmmm...did I wear any super cute outfits since last Tuesday to share on my blog?' day.
The reason I started linking up with
Lindsey
over a year ago was to truly put an effort into myself. To WEAR some of the cute clothes I have in my closet and learn to piece existing articles with new finds to create fabulous new outfits...every.day.
I've learned over the past 16 months or so, the days I put effort into myself...put on makeup, do something with my hair, wear a cute outfit...I feel BETTER about myself. I feel confident. Sassy. Beautiful. I feel like me.
Last Tuesday I
got some news
that made me throw myself into
projects
for distraction. (If you haven't given me your opinion or advice on that project yet, please click over and help me out!)
Wednesday I was at the preschool. I wore a cute coral jacket from Ann Taylor Loft, but didn't feel 'with it' enough to take photos and share.
After Wednesday, this big project ramped up. The thing is, when you are sanding, painting, cleaning, and refinishing....OH, and staying home with sick little girls, you don't want to wear your best duds.
When my Monday night rolled around, I realized today- Tuesday (my Monday) was my first and only opportunity to share with you. It was also my opportunity to feel put together. Confident. A real person again.
So here is my effort. a little sass. ruffle. an untucked tail. mixed patterns.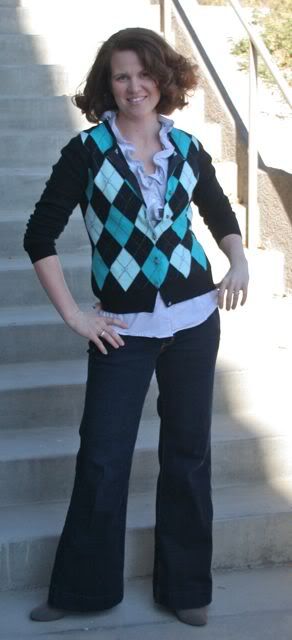 Sometimes, just one day is all you need to turn things around again. One day at a time.
argyle sweater-NY&Co- few years ago
pin stripe ruffled poplin-NY&Co last Spring
trouser jeans-American Eagle Outfitters
gray booties-Charming Charlie's
**
The walls are finished in the girls' room. A nice, fresh putty color. Their new loft bed is all white. The twin bed is next, then the dressers. I'm still stuck on the dressers.
Suggestions welcome
!