Back again for another What I Wore Wednesday.
I'm joining
Lindsey
and hundreds of other women stretching our wardrobes and inspiring each other through fashion. It feels great to jump out of my comfort zone more each week. This week is all about the head wear. It's a quick way to dress up a less than lovely wet or second day hair pony tail or sass up an outfit. I had fun re-purposing Spring pieces for Winter. Not a true winter- let's face it- 50 and 60 degree days- not Winter.
Wednesday-working on the website and blog at the Preschool. Last time I wore a headband like this they all called me Pocahontas. Today, they asked if I was going to a Hippie Rally. *sigh*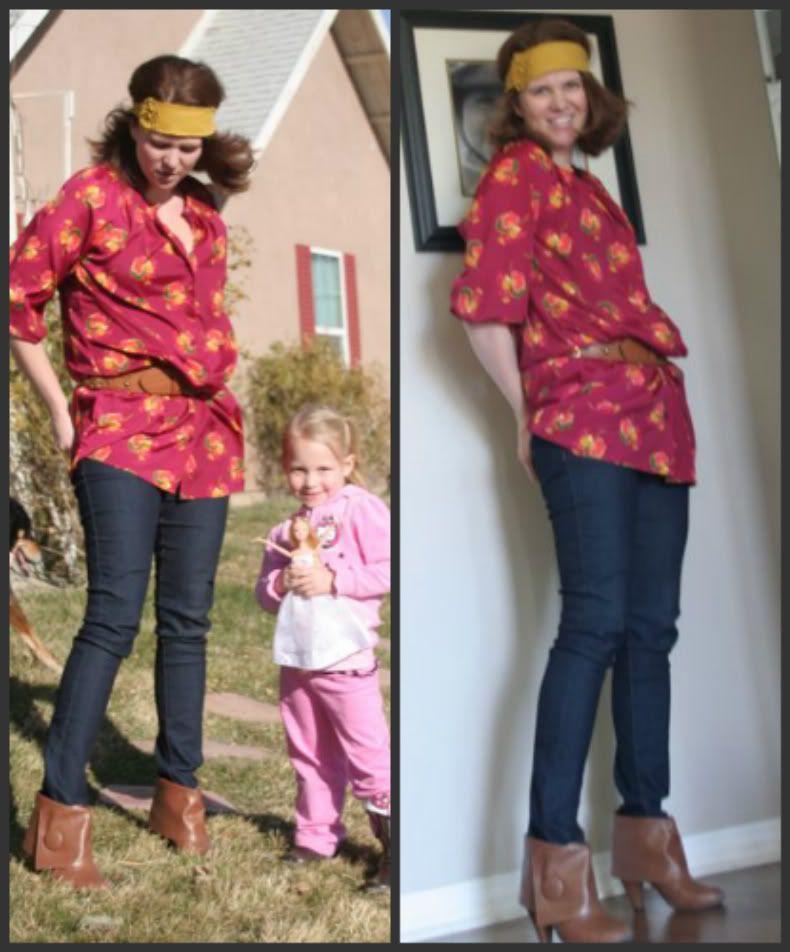 dress work as a tunic-Tucker for Target, caramel belt-Target, skinnies-Forever21
are you loving the sassy child as much as I am?! Kennedy is holding Rapunzel wearing a Barbie wedding dress
yummy booties-Charming Charlie, mustard boho headband-
Sugar Blossom Boutique
the girls dressed themselves today. Madison wore the pants to her new Hello Kitty outfit from Aunt Darlene and Uncle Michael with a Spring dress from Crazy 8, and a long sleeve tee from Crazy 8
Kennedy wore her special Hello Kitty outfit with her brown boots- and yes, her pant leg looked like that most of the day. Silly girls.
Sunday-church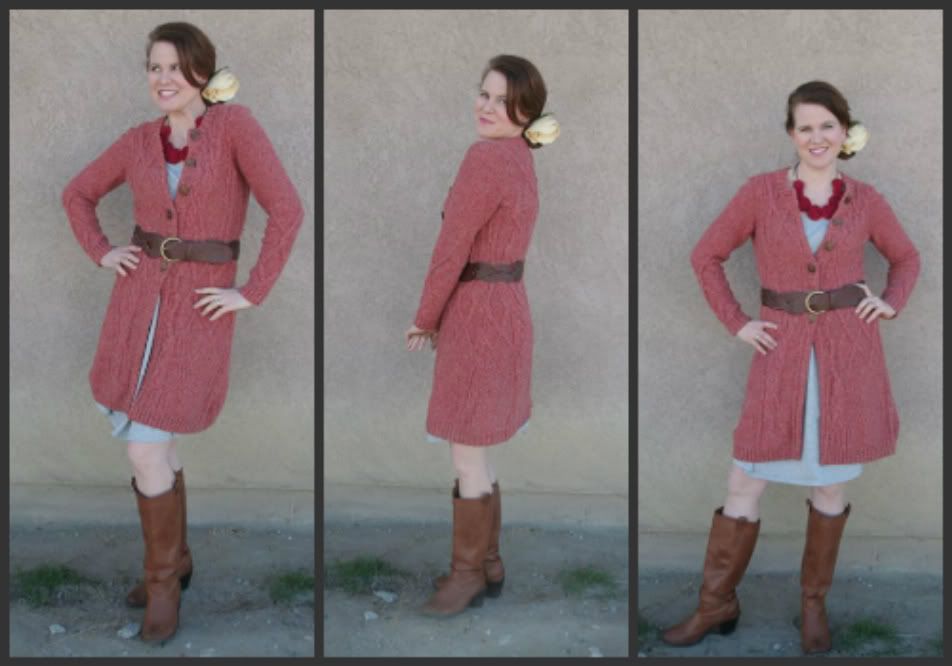 I got this long sweater at Anthropologie in December. I was shopping with with a friend and fell in love with the price tag, but wondered how/if I would ever wear this. She asked the question- 'Are you buying it because the price is insane for an Anthro sweater? or would you buy it for that price at Old Navy, too?' What an awesome way to look at a purchase! It's too easy to get caught up in the 'Anthro' of it all. This outfit seems successful, but I could definitely use some pointers on other ways to style it. The first time I wore this outfit was the day I
started spotting
. I thought I would never wear the sweater again- but it still makes me happy- what do you think?
Breadwinner didn't believe I'd put these silly photos in the post.
red sweater-Anthropologie, gray dress-Old Navy, brown belt-Forever21, favorite boots from my best friend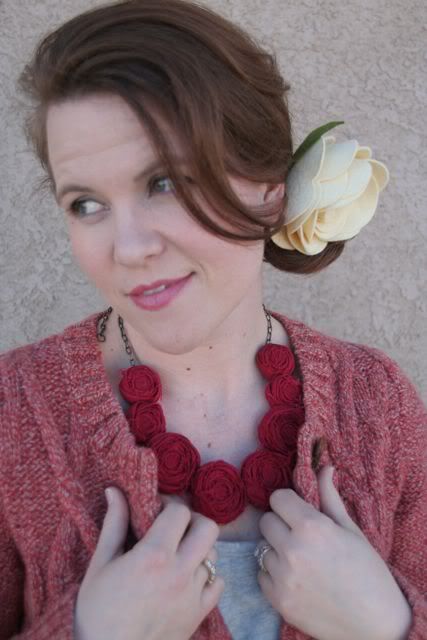 red modern pearl rosette and creamy large felt rosie-
Allorahandmade
Monday-visiting with my sweet friend and her son

My favorite
StacyLynn
dress
layered with NY&Co gray sweater, vintage flare American Eagle Outfitters jeans, and my Charming Charlie booties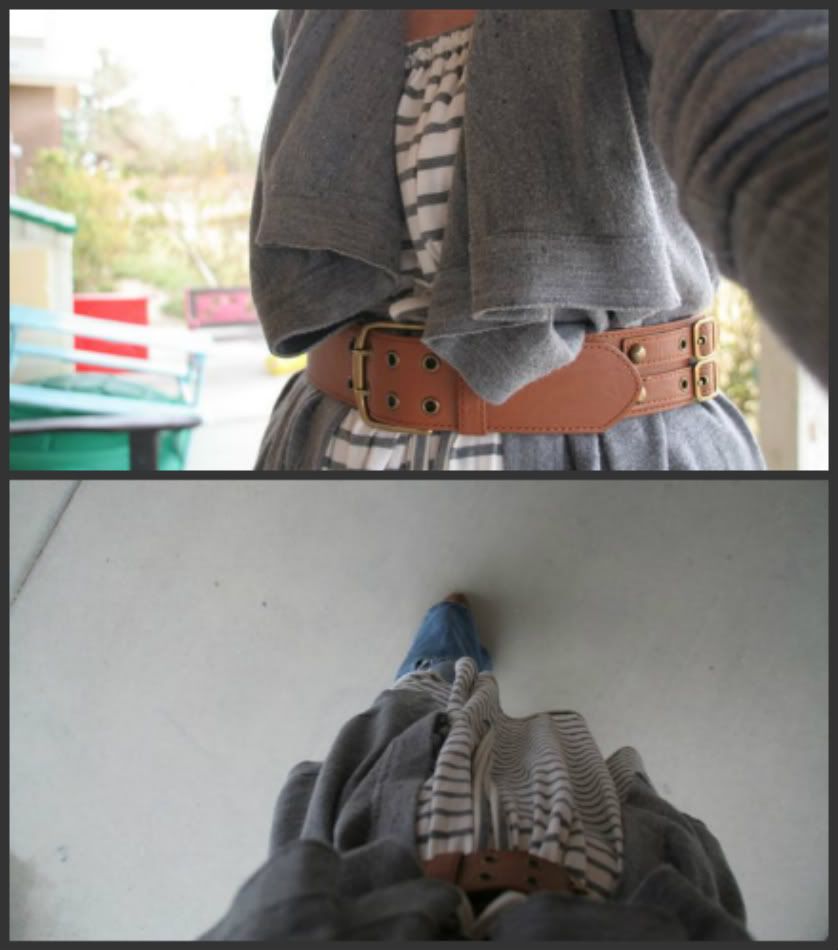 and the
Emily Sparks
headband I picked up a
t Queen Bee
in November
Tuesday- working at the Preschool
No full outfit photos today. I wore a
Springy dress
layered with a ruffled cardi and my favorite tall boots.
long dress and ruffled cardi-NY&Co, navy tank-Old Navy, green Allorahandmade rosie bracelet
new
Lillybug Lane
headband. Oh I can't wait to tell you about this special treasure.
Thanks for stopping by for another week of fun!
Oh, and don't forget- I'd love some suggestions on how to style that red Anthro sweater and your feelings on it.