In an effort to distract myself from my emotions, I've decided to redo every room in my house...one room at a time.
There wasn't a hugely grand announcement. It was just a little tidbit. Did you
catch it
?
We bought a HOUSE! Not just any house, the incredible gift of
a house
we've been renting for nearly two years. We NEVER thought we could afford to buy a house in California, EVER...let alone a dream of a house like this one.
For nearly two years it's been the house we were renting, now it's time to make it OUR home.
Paint is the first order of business for me. The kitchen and dining areas got a facelift just after Christmas. The halls and entry were next-just finished two days ago.
Now- the girls' room.
Back in April it looked like this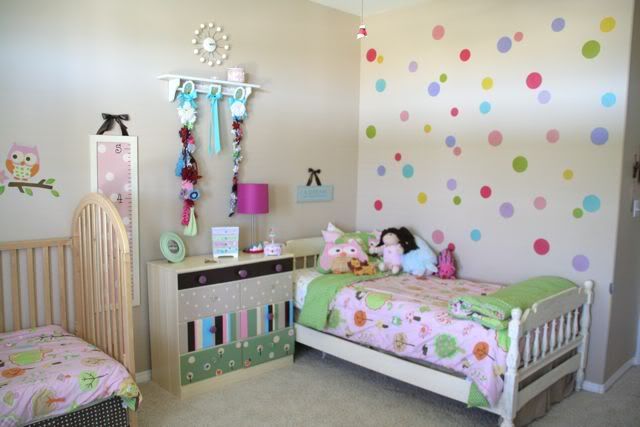 Since then, Kennedy traded her crib for a big girl bed, both girls got 'princess beds' for their birthdays (aka IKEA bed netting thing), Madison's net was ripped down, Kennedy's bed moved, I made a few things, and the room turned into a disaster zone.
Today: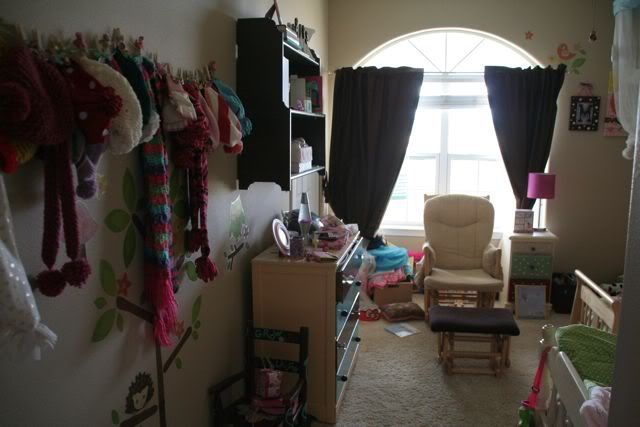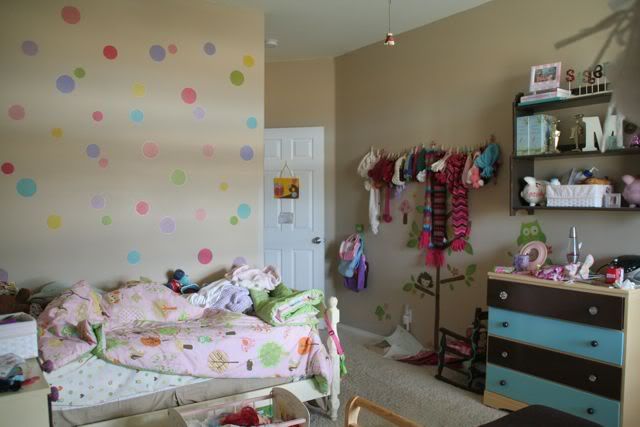 See?
Here's where the pinning comes in.
You've heard of
Pinterest
, right? Well, I've avoided it like the plague. I mean, I signed up months ago, looked around a little then logged off and erased it from my memory. I know what happens when you log into Pinterest. Time stands still in Pinterest land, and speeds up in the rest of the world. 4 hours later- a day is wasted. Pinterest sucks you in.
Never the less, after countless not so gentle suggestions from my
friends
, I logged in last week in search of inspiration for this disaster of a space.
Oh, and I failed to mention, I talked Breadwinner into helping me build a loft bed for the girls.
Ana White
has fantastic, easy to follow plans that suit our needs perfectly. Fortunately for him, last weekend when we listed a few free things on craigslist, I stumbled on
this little lovely
for a cool $100. The desk was broken, but we didn't intend to use it, so no worries there. It just needed pick up and assembly...well, and a little refinishing love.
Madison's existing bed was Breadwinner's when he was a little boy. You may remember I refinished it with a
creamy distressed look
. Their dressers are both hand me downs, too. The really crazy painted one was Breadwinner's as a child, too. When I first painted it I loved it...now? um, not so much. The peachy dresser is from a friend. I painted that one, too. Also, no longer in love.
So here is the plan and where you come in.
The new loft bed is in the process of getting a crisp, white makeover.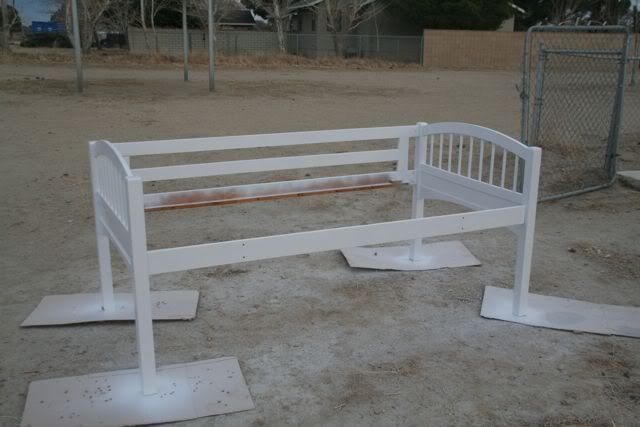 I finished the top half yesterday,
but the wind halted my plans to finish the bottom today.
(hence the really long photo filled post right now)
My plan is to put this new piece of crispy white goodness on the wall that is currently covered in polka dots-in place of Madison's existing twin bed.
Her twin bed will also get a crispy, white makeover and turn 90 degrees under the loft bed, with the head under the loft, and the bed against the wall that currently has the crazy painted dresser and chicken wire bow holder.
Did I lose you? Scroll back up and look at the photos again.
The two beds should look like an L, or half a square.
Make sense?
The bottom bed will stick out to approximately where the dresser currently ends.
Now to the dressers.
I'm thinking about putting one at the end of the bottom 'bunk' and maybe putting one under the bunk, in the space next to the bottom bed. Kind of like a bed side table. It will fit (I already measured)
Do you think that will be too crowded/condensed in the one part of the room? Or is that the perfect way to open it up and give the girls tons of room to play?
They both still LOVE rocking at night, so the glider and ottoman will probably stay for now (but eventually it would be nice to move it next door and have a nursery again)
I'm really struggling with the over all furniture placement.
Oh, and then theirs painting. (maybe this should have been 10 different posts!)
I'd like to paint one dresser crisp white and the other one really fun-like a statement piece.
Either a nice pop of color like this
Or something super fun, like this
I'd like to use some of my growing collection of oops paint for this project.
So far, these are the top two contenders.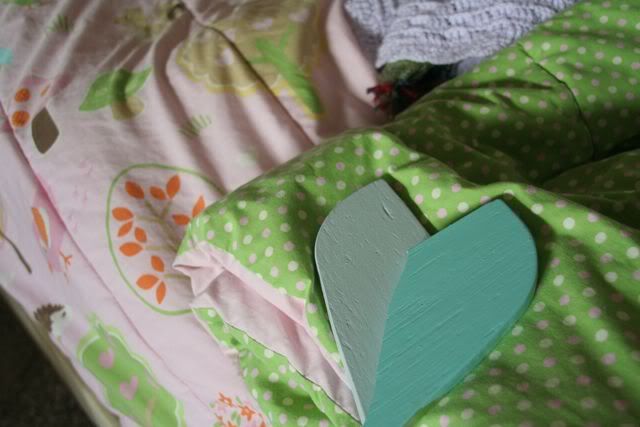 One is kind of turquoisey/robin's egg blue-y. The other is a muted minty color.
I'm all over the place here, are you still following along?
The girls have the
Love and Nature bedding set
from Target (not quilt set in the link, the regular comforter set) in their room now, along with the coordinating tree decals (did you see them all over the room and under the hat clothes line?). They are only 2 years old, so it seems silly to replace them, but since I have to get a whole new twin set anyway (remember, Kennedy's existing set is the toddler bed size), should I just get new bedding? I don't want to be wasteful. Should we just hold off for now?
Back to the dressers...the brighter color coordinates with their current bedding much better. It's almost the same color as the turquoise in their bedding. I LOVE the look of the muted minty color with their soon to be new, white furniture, and freshly painted walls.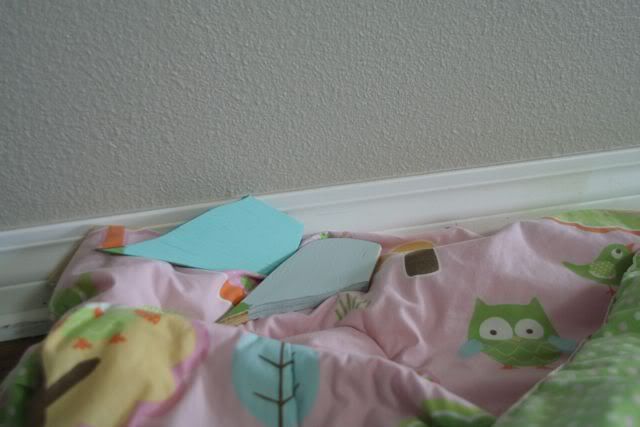 This photo was taken in the hallway, which is the color the girls' room will be. Not much different than their current color, just slightly brighter and cooler tone putty.
I could do a similar treatment to the tree dresser from Pinterest using both these colors in the same way the browns were used-kind of striations?
Or use one of the colors as the base and use the other for large polka dots or stripes all over the dresser and drawers? Kind of a tone on tone look?
So many ideas, I just can't decide!
I also don't know what to do with the large brown IKEA wall shelf in their room.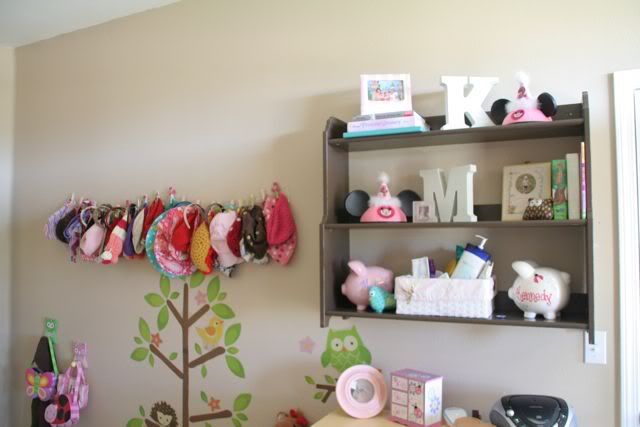 Leave it chocolate brown? Paint it white? Or one of the bluey/green colors?
Leave it where it is? Move it?
OK, are you totally lost here?
See why I'm having so much trouble? My brain is ALL over the place.
I would love, love, love some opinions here.
Feel free to completely disagree with me, or suggest something totally different.
Any and all suggestions and opinions are welcome!
Please help me give our girls a new and fun space.
Ready? Comment away!