Do you ever look through your closet and piece together an outfit in your mind?
An outfit that is so cute and so original in your mind you can't wait to put it on?
One so incredibly perfect, it meshes color blocking, repurposing pieces in creative ways, pulling oldies but goodies out of the back of the closet?
I had that outfit.
It was all put together in my head.
I woke up last Wednesday, washed, dried AND curled my hair before we left for the preschool
*note: morning are rough at my house. I NEVER wash, dry, AND curl my hair on a school day- this was a big deal*
I donned my fabulous frocks, fluffed my hot rolled locks, and loaded up for a busy day helping with picture day at the Preschool.
I.felt.fabulous.
Adorable.
Seriously cute.
No one said a word all day.
Not even a snide comment graced the lips of the women who usually have at least something to say about my good, bad, or otherwise outfits.
THAT should have been the first clue.
Nope. I felt too fabulous to see the signs.
So, I loaded up the girls, came home, did...who knows what, and prepared dinner for Breadwinner.
He came home...and said nothing.
Nothing positive. Nothing negative.
Nothing.
When I asked him to take some photos of me, he grabbed the camera and followed me to the backyard, happily snapping away as I attempted to pose.
The next day, I looked over the photos.
My.heart.sank.
The outfit was terrible. My hair was terrible.
It.was.terrible.
Outfit Bust.
I wasn't going to share with you. I was going to delete the photos and forget it never happened.
Then I remembered....I might not be alone.
There could be other brave women who dig through their closets in search of a re-style and come up with a bust.
They could be in my boat-finger on the delete button.
Feeling alone and ridiculous.
Well, for those women- who were brave enough to try and fail....here ya go.
A bust. A major.outfit.bust.
I'm proud. I'm learning. This one, not so great, but the next attempt...it will be fabulous.
teal dress used as a skirt-Forever 21, charcoal cowl sweater-American Eagle,
pink bow skinny belt-NY&Co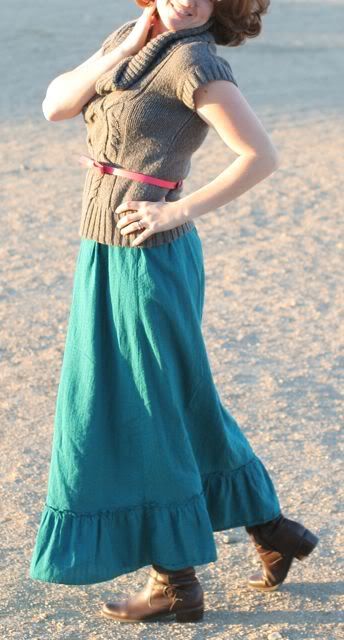 It's not any better from the side
brown boots that used to hurt my feet but now feel fine-JCPenney, Black Friday 2 years ago
the toes desperately need to be polished- I'll get right on that!
BUST.
Better luck next week!