I know, I'm still in shock they accepted me again.
It's been a zoo around our house
There is an 8ft by 4ft booth living in my craft room...aka the Surprise Room- another story for another day. The living room is covered in wreaths, felt, Christmas ornaments and yarn.
Oh, and did I mention over the weekend Little Sister came down with a horrible case of croup? Yep, finally took her to the doctor today because I couldn't bear the terrible cough, horse voice, and grabbing at her throat every time I even mentioned breathing. She's on the upswing for sure- and now Big Sister is showing symptoms.
And then there is the other news-I'm still trying to figure out how to post about it. No- we are not pregnant- don't go getting all crazy on me.
In the midst of all the chaos I did manage to get up and dressed every day this week- including the weekend. I EVEN did my hair a few days and actually put on some make up.
Walking on the wild side.
I even ventured into the depths of the back of my closet-that makes my closet sound humongous. It's fabulous, but things don't really get lost in there...I don't think. Hmmm- that sounds like another post, too. So- now 3 teaser posts in- let's get back on task. I broke out my dusty old jean jacket last week and a pair of hippie bootcut cords I forgot about (thank you, ShopGal!). It wasn't the most creative outfit, but it did the trick.
Um, and yes- my blog my headless photos. Wasn't such a fan of the no make up face
Black ruffled front henley- Old Navy, denim jacket-NY&Co, khaki cords-American Eagle via ShopGal (years ago), green wedges-Athens, GA boutique
Want a little sneak peek of some special holiday items coming with me to Queen Bee?
I thought you might.
Better get there early. These bits of sparkly fabulousness will go quick!
Here are a few more reasons to stop by Friday night.
The argyle yarn wreaths are available in 8", 12" and limited quantities of the fabulous 18" size!
As always, I'll have a few of my trademark hoot friends in several sizes, too.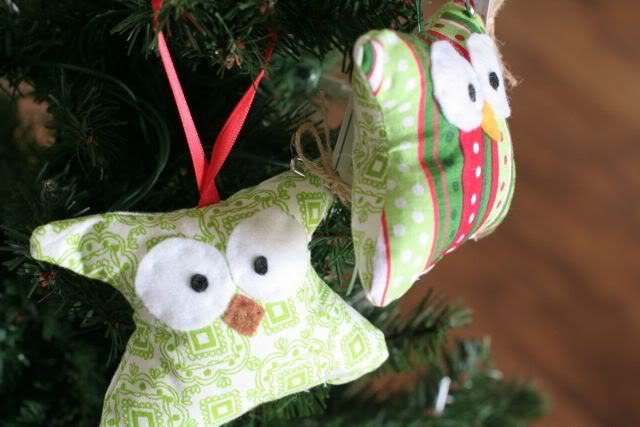 The beautiful 18" version pictured here is coming with me to Queen Bee.
Want to call dibs?
Happy Wednesday!