Since it's Halloween Week here at Fairly Fabulous, I decided to take you on a fashion journey through the last few years of Halloween.
Only one costume to share.
What do you wear trick or treating with your kiddos?
First up- 2007 Big Sister's 2nd Halloween (15 months old)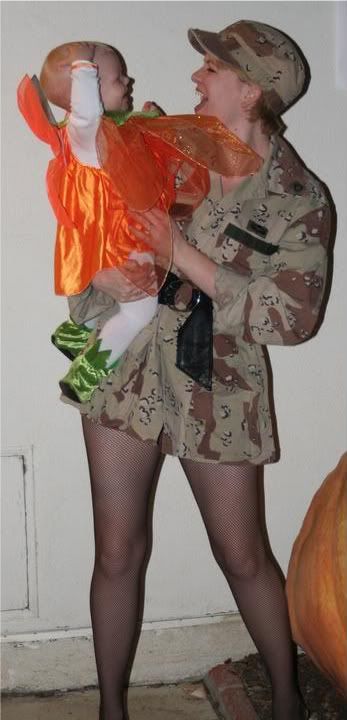 after we took a million pics of Big Sister in her Joann's Pumpkin Fairy costume with a sparkle wand I added buttons to and white onsie I added a little orange ribbon to (yes- it was my cop out year) I ran inside and grabbed an old Army coat, black belt, brown fishnets, and a cap. It was fun seeing Breadwinner's jaw drop when I walked out. I did wear my bathing suit bottoms but felt like my tush was hanging out all night! Kind of fun to be a sassy mommy. A little more than 40 weeks later Little Sister came into our world. Hmmm....
2008-Little Sister's First Halloween (2 months old)
brown tee-Old Navy, cream skirt-Anthropologie, brown cowboy boots-hand me down from my best friend. Big Sister's costume will be highlighted tomorrow. Come back for details. ;)
Can you tell I was nursing a newborn? Yikes!
my accessory that Halloween- tiny Little Sister in her Peanut Shell
black cowl neck tee-NY&Co, jeans-American Eagle, mustard felt headband-Anthropologie, red sandals-Old Navy, necklace-gift from ShopGal
2010-A couple short months into my wiww journey
cream ruffled top, charcoal ruffled jacket-NY&Co, gray beaded necklace, skinny jeans-American Eagle, my favorite camel boots from ShopGal
my silly friend made fun of my wiww pics, so she swooped in with 'look what I made'-cupcakes
**
It's kind of funny looking back. Notice any trends?
Wow- ShopGal gives some great gifts and hand me downs!
And, um- HELLO- pick a hair color already?! haha-
Did you know I was blonde nearly my entire life?
Little fun fact.
All Halloween posts welcome. Can't wait to see what you share.