Some bloggers schedule guest post series when they have a baby.
Well, prepping for
Sew Funky Market
and the
Queen Bee
are my new baby- so I'm taking a little 'maternity leave' and some of my favorite gals are filling in the gaps!
Don't be fooled- I'm busy crafting and creating in between prepping my booth- there will be tons to update when the markets are over, and a few teasers here and there all Summer.
In the meantime- please welcome the first of my
Fabulous Summer Guest Bloggers, Rebecca from My Girlish Whims.
You may remember Rebecca from my Party Like it's 1999 Birthday giveaway bash-
She's awesome and her jewelry- *swoon*
Welcome, Rebecca!!
Hi there! I'm Rebecca from
My Girlish Whims
and I'm happy to be here at Fairly Fabulous!
I'm a 20 year old college girly girl who would rather be crafting then sitting in class any day. Over at my blog I love sharing my passion for beading, crafting, and general life as a girl!!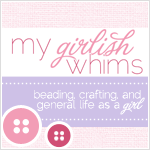 I'm recently engaged and have loved blogging about the whole experience.
Everything from my
proposal story
,
wedding dress shopping
, sharing
engagement photos
, picking out
colors
and the start of my DIY wedding projects like these
Will you be my Bridesmaid Cards
!
My favorite craft is jewelry making. My etsy shop,
Your Girlish Whims
, is where I make handmade accessories to match all of
your
girlish whims! Here are some of the pretties in my shop:
I post a new craft tutorial every week on my blog. Here are some of my favorites:
My dorm room at college has super boring walls so I made this
Paper Fan Banner
to add some color!
I tea-dyed some sheet music and made these
paper roses
out it. Perfect for a music room or any room really - they have such a romantic look to them!
I used some of my left over sheet music to make this
pretty necklace
with just some mod podge, cardboard, chain, and beads.
I also like to post fashion posts like Meagan does so well! Here are some of the outfits I've posted about:
I would be so happy if you would stop by
my blog
and say hi! I'd love for you to link up to my link party every Wednesday to show me
your
girlish whims!
Or, just leave me a comment. I love meeting new bloggy friends! :)
Thanks so much for having me here Meagan!
**
Thanks for stopping by, Rebecca!
Be sure to check back all summer for more
Fabulous Summer Guest Bloggers!