This Thursday, May 19th is my birthday.
My 31st birthday to be exact.
For months now I've been planning a celebration so YOU can help me celebrate.
A party of epic proportions.
Think Baskin Robbins 31 flavors style. 31 Flavors/31 Giveaways.
Well, 31 giveaways was a bit much- so instead...
with over 19 FABULOUS items to giveaway
we are turning back the clock to the year I turned 19 so we can
Party like it's 1999!
Grab the button. (It's over there ----->)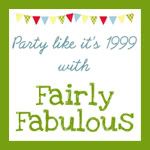 It's going to be huge!
Oh Yes- and that's just the icing on the cake (pun intended- it's my birthday- I can be silly)
SO get your party shoes all shined up.
The party begins THIS Thursday, May 19th- It's My BIRTHDAY!