We're having a party.
Are you getting all dolled up?
Guess what?
Bloggers look out!
She may or may not be participating in my big Birthday Giveaway Celebration. Just sayin.
She's starting her celebration TODAY!
Be sure to tell her how cool you think it is we are attempting to overload the internet with Birthday Fabulousness these next two weeks. ;)
Love this
Thanks for sharing it, Rachelle!
PS Don't forget to grab my birthday button.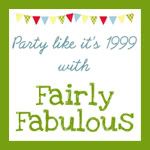 It may just come in handy later this week...*wink*