Are you getting ready?
Here's the deal- the giveaways start tomorrow at 12:01am.
Each giveaway will be open 4 days
Entry options vary for each post, but there are a few bonus entries for each of the 19 giveaways.
Want the inside scoop?
There are NO mandatory entries in any of these giveaways.
Choose as many or as few as you want.
Since it's my birthday- following my blog is ALWAYS the #1 entry
.
1. You have the party button on your blog sidebar.
2. You blog, tweet, or facebook about a giveaway. Each time you 'share' a giveaway, jump over and leave an extra comment for a bonus entry in THAT giveaway.
So what are you waiting for?
Grab the button and add it to your sidebar!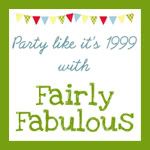 You're here now- if you are not a follower, go ahead and click.
It will save you time when the fun begins!
Want a bigger head start?
Go visit these lovely ladies and start following along...
Sugar and Dots, Momma Go Round, Fingerprints on the Fridge, Inspired by Faith, My Girlish Whims, Crystal B, Tattered and Inked, Pink Lemonade, Something Diane Made,
Eclectic Elegance,
Momma's Itch to Stitch, The Answers are Simple